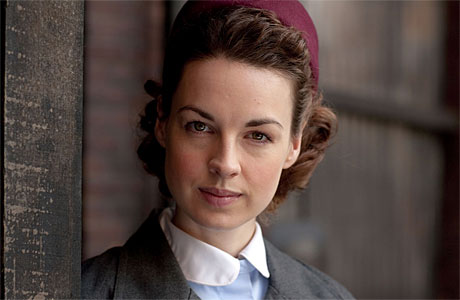 Actors must find it strange to wander into the middle of a full-scale cultural phenomenon like a long-running soap or, say, the longest-running science fiction show on television, and just sort of fit in. Especially if it's not a show you happen to have grown up with.
So let's not be too hard on Call The Midwife's Jessica Raine, who didn't realize quite what she was letting herself in for when she agreed to appear in Phantom of the Hex, the first in the new run of Doctor Who stories, completing Season 7.
Jessica is playing a character called Emma Grayling, and the culture shock between her day job and the TARDIS was hard to take at first, as she explained to the Radio Times (magazine): "[It was] very different to Midwife. On Doctor Who, it was all mind machines and strobe lighting.
"But it was a magical experience and something I was very happy to do. It's very different character and genre – you have to throw yourself into it and take it very seriously.
"I hadn't realised what an institution Doctor Who is. I got offered the part and didn't think much about it. Then you go on set and you see this blue police telephone box, and suddenly the weight of what you're doing hits home."
Luckily, Jessica had worked with Matt Smith already, and he made her feel right at home: "We had done a play reading together. He's a brilliant actor. He has a very long career ahead of him. I like the fact that he brings a darker edge to the role of the Doctor – it's not all fun and games."
When was it fun and games? Did we miss an episode?
Doctor Who Season 7, Part 2 is coming soon. 
Read More
Filed Under: