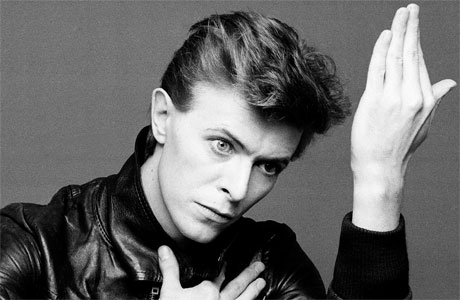 It's David Bowie's birthday today, his 66th. And to celebrate this, or simply because it's a notable day in the calendar that suits his purposes, he has suddenly announced details of a new album, produced by long-time collaborator Tony Visconti, and released his first new song in years.
I'll just leave a moment's pause here for you to catch up, if this is news to you. It's a lot of information to assimilate in only two sentences.
…
Done? OK, so the song is called "Where Are We Now?" and it's a beautiful, stately affair. The video – directed by Tony Oursler, who has plenty of experience in making David Bowie look odd – is less so, unless we're talking about the kind of stately that is a home for an eccentric amateur scientist and teddy bear enthusiast:
http://youtu.be/FOyDTy9DtHQ
The album is called The Next Day and it's coming out on March 12. iTunes currently has the cover art as being essentially the cover of Heroes, with the title crossed out, and a white square obliterating David's face:
The tracklisting is as follows:
1. "The Next Day"
2. "Dirty Boys"
3. "The Stars (Are Out Tonight)"
4. "Love Is Lost"
5. "Where Are We Now?"
6. "Valentine's Day"
7. "If You Can See Me"
8. "I'd Rather Be High"
9. "Boss of Me"
10. "Dancing Out in Space"
11. "How Does the Grass Grow?"
12. "(You Will) Set the World On Fire"
13. "You Feel So Lonely You Could Die"
14. "Heat"
Plus bonus tracks: "So She," "I'll Take You There" and "Plan"
Of course, with the reference to Potzdamer Platz in the lyrics and this cover image – assuming that's not just a placeholder until the real thing is ready – the inference is that his latest work will be some kind of sequel to the justly-celebrated "Berlin" trilogy of albums he put out in the late '70s, which would be no bad thing.
In any case, it certainly beats doing a swing album of American classics, or attempting to deliver a dubstep banger about a night in the club, like the kids do.
Read More
Filed Under: