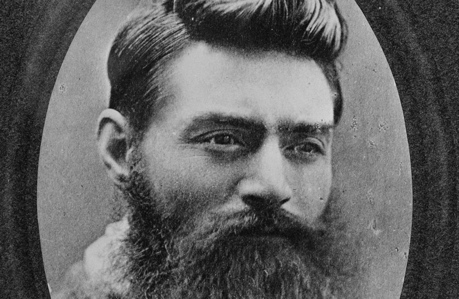 Some 132 years after his death by hanging, famous 19th century Australian outlaw Ned Kelly was finally laid to rest last weekend next to his mother in a private service.
Kelly's remains, which were dug up and identified two years ago from a group burial site near a Melbourne jail, were reburied on Sunday in an unmarked grave alongside his mother some 100 miles northeast of Melbourne. (Gruesome side note: most of his skull remains missing, having been stolen years ago.)
Considered a Robin Hood-like figure, Kelly was notorious for his criminal exploits and fierce opposition to the British authorities during his lifetime. Long after his death at age 25 or 26 (his birth year is a matter of dispute) in 1880, he has endured as a mythic figure in Australian culture, where he has been the subject of movies, TV shows, plays, songs and paintings. Both Brit Mick Jagger and Aussie Heath Ledger have portrayed him in movies.
Kelly was a bushranger, Down Under slang for an outlaw living in the rural countryside. The son of a deported Irish convict, he grew up dirt poor in rural Australia and suspicious of the Anglo-Australian power establishment. Kelly began having brushes with the law by the time he was an adolescent. He and his gang eventually turned to robbing banks and he was already a wanted man by the time he shot and killed three police officers, the crime for which he was hanged.
Part of the enduring fascination with Kelly is due to the crude, homemade metal armor he wore when going up against the law. It included as a helmet a sort of glorified coffee can that fully covered his head, with a narrow horizontal slit cut out for his eyes.
Over the years, Kelly's legend has only grown. He was the subject of a celebrated series of paintings by Sidney Nolan (1917-92), one of Australia's best-known artists, and of the True History of the Kelly Gang, a novel by Aussie writer Peter Carey that won England's Booker Prize for Best Novel in 2001.
Films devoted to his exploits date back to the early days of silent pictures. More recent screen portrayals include Mick Jagger's in Ned Kelly, a 1970 film directed by Englishman Tony Richardson, and Heath Ledger's in a 2003 film, also called – no great leap of the imagination here – Ned Kelly. (Brits Naomi Watts and Orlando Bloom starred alongside Ledger in the movie.) Neither film scored strongly with critics or at the box office.
Kelly has even been satirized by Aussie comic Yahoo Serious, who played a modern day version of the outlaw in the 1993 comedy, Reckless Kelly.
Read More
Filed Under: