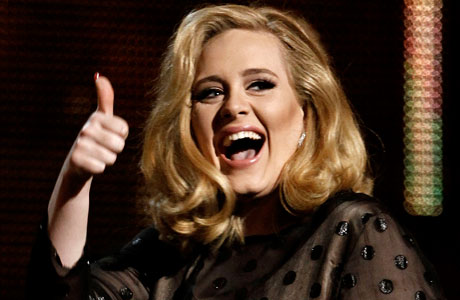 I'm confused. This possibly will not end well for everyone concerned, but we'll press on regardless, and take what is coming to us when the fallout hits.
So, the Sun is reporting that Adele and her man Simon Konecki have decided upon a name for their son, one they can reveal publicly. She had been telling the press at the Golden Globes that it felt too "personal and intimate" to reveal his name to the press, and that she'd been calling him "Little Peanut" anyway, but now it seems things have changed.
Or at least, if they haven't changed, they've been changed. Adele has decided to wear a necklace in public (Los Angeles division) that has the word "Angelo" on it, which counts as some kind of deliberate pronouncement, if you're the Sun.
Naturally they also have a source willing to back this up with a middle name…
"They've called him Angelo James. What a lovely name. They were supposedly mulling over John, after Adele's grandfather, though."
…and some justification as to why this is definitely THE name, and not just supposition on their part, based on a necklace, which is convenient:
"They wanted to keep their choice quiet until they were ready, and wearing the necklace suggests she now is."
They even have a last little kicker, a final quote of entitlement that bunny-hops over the fact that her publicist refuses to comment, which suggests that she still ISN'T ready, otherwise it'd be on her blog, unless making the announcement via a necklace is a subtle reference to spying, in tribute to her James Bond moment, and by allowing herself to be photographed by a paparazzo she is consciously seeking to control the flow of information in the media while playfully echoing her most singular moment of the last year… [continues concocting conspiracy theories in this vein for some time]
Their source concludes: "It is only a name."
Well at least that bit is definitely true.
Read More
Filed Under: