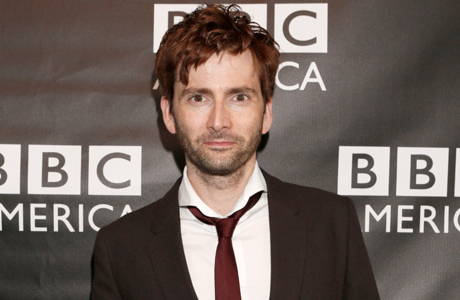 Let's not all go mad at this news, as it's quite a private matter for the people involved and personal gossip is probably best left to other (I'm not saying lesser, but, y'know, lesser) sites. But it seems the Tennant/Moffett family is growing larger, to the tune of one extra child.
Head of the household David (as long as his wife Georgia says he is, natch) appeared on Jonathan Ross's chat show over the weekend and revealed she's expecting their third child as a family, and second as a couple.
Again, not wanting to make too much of a public fuss himself, he simply said: "It's lovely, very lovely. It's exciting."
Take a look. But be warned, it starts with some fairly graphic Christmas gifts:
As well as preparing for the joys of further fatherhood, David has been finding that Doctor Who casts an extremely long shadow, even in places you would not otherwise expect, including Poland, where he's been filming Spies of Warsaw.
He told the Sunday Mail: "I didn't realise Doctor Who plays in Poland – but it obviously does. I've had a few fans coming up, wanting to say hello, or get a photograph or a signature.
"It doesn't happen quite on the scale that it happens at home – but then I don't think I've been to a country yet where I haven't met someone who's a Doctor Who fan. Except maybe Uganda."
Oh didn't you hear? They had a vote, it's called Whoganda now…
Read More
Filed Under: