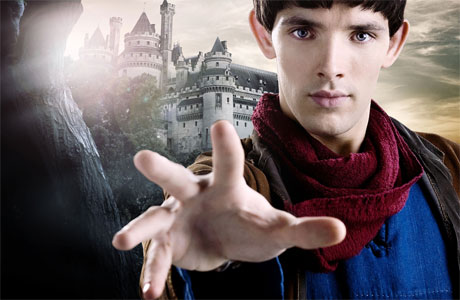 It's official: we finally have an answer to the question that has been plaguing fans of quality British drama the world over for the past few years: Who is best out of Sherlock and the Doctor? Well, it's Merlin.
That's according to voters for the British National Television Awards, at any rate, whose votes secured Colin Morgan the trophy for male drama performance at last night's ceremony, which is well timed, as Merlin has only just finished over here.
Colin beat not only Benedict Cumberbatch and Matt Smith, but also Daniel Mays (Mrs Biggs) to take his award.
Here's a not-very-good clip of his victorious moment:
Elsewhere, Downton Abbey took the best drama gong for the second year running, again trouncing both Doctor Who and Sherlock (and Merlin, come to that), QI won in the comedy panel show category and Miranda Hart took home the trophy for female drama performance, for her role as Chummy in Call The Midwife.
Or at least, she would've done had she not been in Australia. She asked Julian Fellowes to make a speech on her behalf:
(Note: Gary Barlow is in Take That, and was a judge in this year's The X Factor (UK division). And he did appear on Miranda's comedy show Miranda, and did snog her. It all makes sense)
Mind you, if there's any suggestion these awards are given in the spirit of fair play and good timing, Doctor Who is surely going to clean up at next year's awards. So, enjoy it while it lasts, Morgan!
Read More