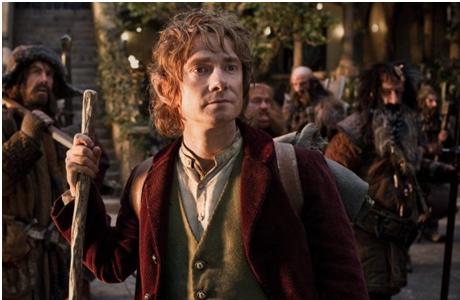 Stephen Colbert, a lifelong fan of JRR Tolkien, has taken it upon himself to dedicate a week-long tribute to The Hobbit with four shows on The Colbert Report this week on Comedy Central at 11:30pm ET.
The tribute kicked off last night, Dec 3, with Sir Ian McKellen. Colbert starts off the segment by complimenting McKellen on his fifty-year career and him finally getting it right with the "Gandalf thing."
Check out the interview here:

Bilbo Baggins himself, Martin Freeman, will be appearing on tonight's program (December 4); with Director Peter Jackson stopping by the studio on Wednesday (December 5); and Andy Serkis (Gollum) rounding out the week sitting down with Colbert on Thursday (December 6).
Colbert has insinuated that he shot a cameo for the film while visiting the New Zealand set. Hmm, is that part of his motivation to promote the film to this extent? Orrr, is he vying for an actual appearance in the sequel?
We'll only find out if he made the cut when the The Hobbit hits theaters on Friday, December 14.
In a statement to EW, Colbert said: "Elen sila lumenn' omentielvo… I mean that sincerely." (Translation from Elvish: "A star shines upon the hour of our meeting.") Oh man, he is really excited.
Do you share Colbert's excitement?
Read More
Filed Under: