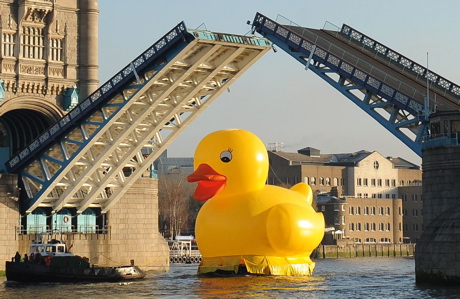 Londoners had their feathers ruffled, but in a good way, yesterday when a giant rubber duck sailed along the Thames through the British capital's business district.
The 50-foot yellow plastic duck was part of a publicity stunt to help kick off a £250,000 ($403,000) initiative to bring more fun and laughter to the U.K.
The duck's early morning swim — it was atop a barge — took it past such landmarks as Canary Wharf, the Tower Bridge (the duck went underneath), the Millennium Dome and the Tower of London.
The stunt was sponsored by Jackpotjoy.com, which is a British bingo and gaming site. The site was looking to promote its new FUNdation initiative, which intends to hand out grants to finance creative proposals for making the English abandon their stiff upper lips in favor of big smiles and loud guffaws.
The Daily Mail quoted Michael Saunders, Jackpotjoy's managing director, as saying, "We want to make sure we get the laughter quota back where it belongs and are hoping the FUNdation will help people have some daft fun. If you want to organize the biggest ever street conga, or jump into a pool of jelly, let us know."
Want to see the duck in motion for yourself? Here's an ITN news clip about the event:
——————————–
Did the duck stunt make you laugh?
——————————–
Read More