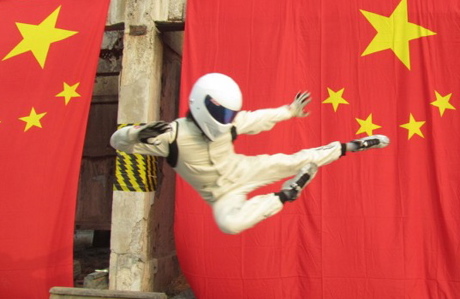 Could we have used the word "top" any more times in that headline? But at least you get the idea: we're aiming for the top here, and we'll look at the high points of Top Gear over the past year.
To paraphrase Bette Davis, fasten your seatbelts, it's going to be a bumpy ride.
1. TANKS FOR THE MEMORIES
In the premiere episode of his own series, Richard Hammond's Crash Course, the Hamster learned how to drive an Abrams tank.
Perhaps in season three, the U.S. military will give Richard the nuclear launch codes?
2. TOP GEAR SETS RECORDS
In addition to entering the Guinness Book of World Records as the most watched factual program IN THE WORLD, Top Gear also set some automotive records. At Top Gear Live's show in Durban, South Africa the world saw the first-ever double loop-the-loop in a car:
Just a few months later, Top Gear Live broke a similar record for a motorcycle loop-the-loop in Birmingham, England.
3. TOP GEAR BLOWS UP A CARAVAN
When the official Top Gear UK Facebook page crossed the 10 million fan threshold, they celebrated by blowing up a caravan, a.k.a. a mobile home that you attach to a car. The Stig did the honors.
4. THE STIG'S CHINESE COUSIN
This year, Top Gear went to China, where they met a Chinese version of The Stig.
5. A FAN STRIKES BACK WITH THE 'RUGGED ROBIN'
Jeremy Clarkson has long poked fun at the three-wheeled car known as the Reliant Robin.
But one defender of the Reliant Robin decided to take on Jeremy by creating his own military-style version, which called the Rugged Robin.
6. JEREMY RE-ENACTS THE BATTLE OF BRITAIN IN A CAR
For this stunt, Jeremy put an airplane engine in a vintage car. We picked this highlight because Jeremy looks like he's in that movie, Those Daring Young Men in their Jaunty Jalopies:
7. RICHARD HAMMOND, STUNTMAN
For Crash Course, Richard learned to punch, fall, drive and even burn his way to stuntman greatness, and he learned how to do a rollover driving stunt:
8. TOP GEAR AND WILDLIFE
Nature and wildlife aren't generally the first things that pop into our heads when we think about Top Gear. But this year, the guys had lots of interaction with the animal kingdom.
James May found himself in an encounter with a deadly alligator.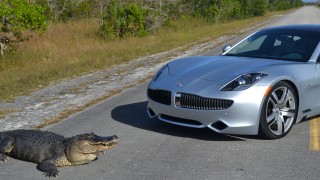 And Richard channeled his inner Dr. Doolittle at an exotic animal sanctuary in Hawaii.
9. MORE STARS IN REASONABLY PRICED CARS
The past year saw many stars getting behind the wheels of reasonably priced cars. Here's Doctor Who's Matt Smith:
10. HAMMOND, RICHARD HAMMOND.
Top Gear celebrated the 50th anniversary of James Bond with a special. In it, Richard spent time with Daniel Craig and Roger Moore – and also drove a newly-built Lotus Esprit that, unlike the one in The Spy Who Loved Me, actually drove underwater.
Read More
Filed Under: