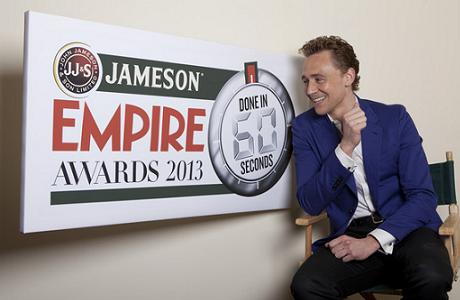 Thor star Tom Hiddleston, Anglophenia's Fan Favorite: Men of 2012 winner, is currently acting as a judge as part of the Jameson Empire: Done in 60 Seconds short film competition, reports the Belfast Telegraph.
Potential producers are faced with the challenge of condensing a feature-length movie into a simple 60-second clip. The 2012 winner was based on Darren Aronofsky's Black Swan starring Natalie Portman.
While Hiddleston has appeared in films he says, "I've never actually made one myself, apart from messing about on my phone."
He's interested in making a film but is pretty tied up with his "day job" of being a movie star saying, "I would love to do it at some point. The trouble is I've just been so busy with acting that I haven't had the chance to take out the time to produce my own stuff."
While he may not be stepping behind the camera just now, he's in the position to aid those who are. He talks about his strategy in judging the works submitted saying he definitely won't pull a Simon Cowell and will be supportive of aspiring filmmakers.
He elaborates to the Telegraph, saying, "I know how hard it is to make films and to be in them so I will be much more compassionate." What he's looking for in the short film is "confidence" and "style." He encourages filmmakers to put their own stamp on their submission.
The closing date for entries to be submitted for the competition is January 20 2013.
Have you started your film? Get on it!
Read More
Filed Under: