DWIGHT EISENHOWER AND ELIZABETH II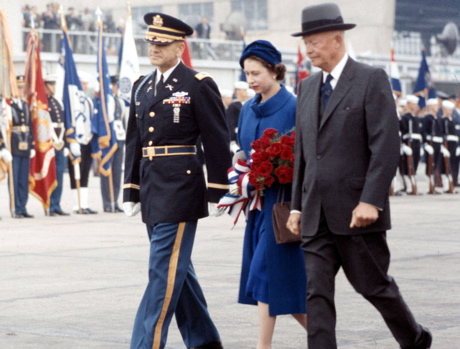 Like Truman, Dwight D. Eisenhower had also gotten to know Elizabeth when she was still Princess, and, as Supreme Allied Commander in London, he had also developed friendships with her parents, King George VI and his Queen.
In 1957, Eisenhower hosted Elizabeth's first state visit to the U.S. as Queen, and, in June 1959, Ike flew to England, where he was a guest at Balmoral, the royal estate in Scotland.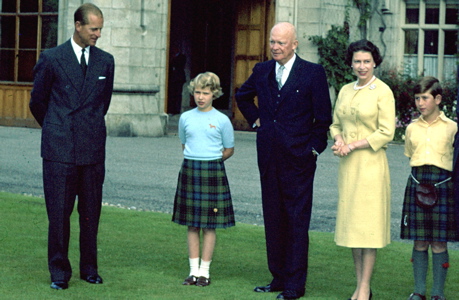 Later the same year, both the president and the Queen celebrated the opening of the St. Lawrence Seaway, the joint U.S-Canadian project to link the Atlantic Ocean to the Great Lakes. They traveled on the Queen's beloved yacht Britannia.
At one point an American congressman, reported BBC News, shouted out to the president: "We have all fallen in love with the Queen, Ike!"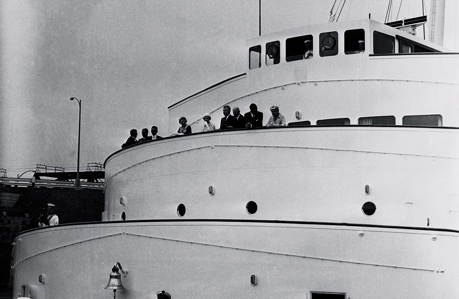 The warmth of the relationship between Eisenhower and the Queen was reflected in a handwritten letter Elizabeth wrote several months later, offering the president a recipe for grilled scones.
"Seeing a picture of you in today's newspaper standing in front of a barbecue grilling quail, reminded me that I had never sent you the recipe of the drop scones which I promised you at Balmoral. I now hasten to do so," the Queen wrote. "We remember with such pleasure your visit to Balmoral, and I hope the photographs will be a reminder of the very happy day you spent with us."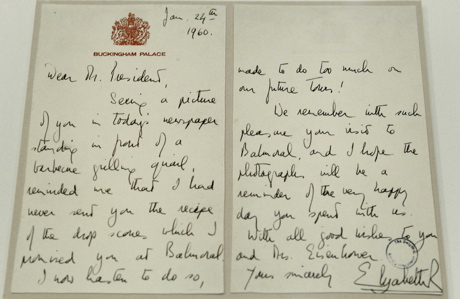 NEXT: John F. Kennedy and Elizabeth II
Read More
Filed Under: