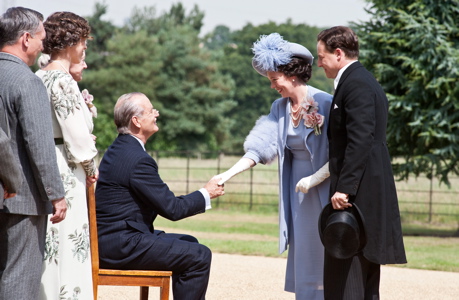 This post is brought to you by Focus Features' new film Hyde Park on Hudson, directed by Roger Michell (Notting Hill) and starring Oscar nominees Bill Murray and Laura Linney. In theaters now.
Hyde Park on Hudson tells the true life story of the first time a reigning monarch of England visited the United States. In June 1939, King George VI and his wife went to Washington D.C. and then spent a weekend with President Franklin Delano Roosevelt at his family estate about 90 miles north of New York City.
Bill Murray plays FDR as a president juggling unusual romantic arrangements with his wife Eleanor (Olivia Williams), his secretary Missy LeHand (Elizabeth Marvel) and his cousin Margaret "Daisy" Suckley (Linney) as much as he's playing host to the visiting royals, King George (Samuel West) and his wife, Queen Elizabeth (Olivia Colman), who was the mother of the current Queen.
Daisy narrates the events of the weekend, which wasn't just a social gathering – it was an important historical moment.
In June 1939, Britain was on the brink of entering World War II and was desperately looking for American support. While FDR privately discussed with the King ways that the U.S. could supply military aid, the public read about the British and American heads of state and their wives enjoying a relaxed and informal country weekend, complete with a Yankee-style picnic that famously included hot dogs.
The movie portrays a president firmly cognizant and in control of the public relations opportunity of the weekend, even as he acts as a substitute father for a timorous king facing enormous challenges.
"This visit changed the perceptions of the American people," says an article on the FDR Library website, and it enabled Roosevelt "to do more for Britain. When England declared war on Germany three months later, Americans, due in no small part to the King and Queen's visit, sympathized with England's plight; Britons were no longer strangers or the evil colonial rulers from the past but familiar friends and relatives with whom Americans could identify."
On the occasion of Hyde Park on Hudson, Anglophenia takes a look at the history of meetings between sitting U.S. presidents and reigning British monarchs. Though such meetings are now relatively commonplace, if you can use that word to describe them, they simply didn't occur until the second decade of the last century. Queen Victoria, whose reign lasted 63 years, from 1837 to 1901, never met a single president in office. By contrast, Queen Elizabeth II, whose 60-year tenure is approaching that of her great-great grandmother, has met with 11 out of the 12 presidents whose terms have fallen within her reign, with Lyndon Johnson being the sole exception.
But first, let's go back a little bit further, to the Founding Fathers.
NEXT: John Adams and George III
Read More
Filed Under: