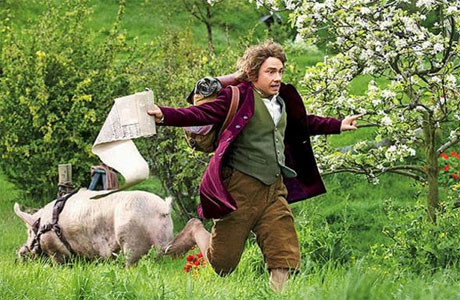 See, didn't we tell you Martin Freeman was good?
The Hobbit: An Unexpected Journey finally reached theaters this weekend, and despite some lukewarm reviews and complaints about the running time, Peter Jackson's latest Middle-earth epic has set a box office record with the biggest December opening ever, its $84.8million takings beat not only the three previous Lord Of The Rings films, but also I Am Legend ($77.2 million) and Avatar ($77 million).
Whack the international takings on top of that – $138.2 million – and you've got well over $200million in ticket sales before the film has even been out a week!
That's not to say the other two films will necessarily do just as well. The only real precedent for The Hobbit – a hugely anticipated first part of a trilogy that is itself a sequel to another trilogy – is Star Wars Episode 1: The Phantom Menace, and while that film also put an awful lot of bums on seats, their owners were by no means all glad to have been there by the time of the end credits, and this reflected in the box office takings (and reputation) of episodes 2 and 3.
So it's possible the reviewers may yet turn out to be right, but then again plenty of people found Lord of the Rings to be somewhat windy in the storytelling department, and it never did those films any harm.
Read More
Filed Under: