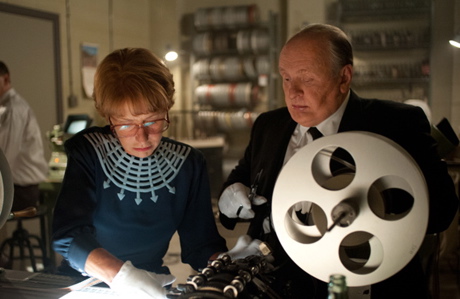 Every year right about this time, handicapping for the Oscars begins. Who will be nominated for an Academy Award? Who will win? Which movie stars will sweep onto the stage to gush and thank the directors, co-stars and significant others at the big ceremony on Feb. 24?
It's early yet, so we have some leeway and we're going to use it to imagine the possibility that the five nominations in both the Best Actress and Actor categories will all be British. Yes, every single one of 'em. It could happen.
It actually has a better chance of happening with the actresses than with the actors, but we live in hope. Here's how, if the stars (both cinematic and celestial) align, it could happen:
FOR BEST ACTRESS:
Rachel Weisz for The Deep Blue Sea
Weisz's moving performance as a married, upper class woman who falls for a much younger, former RAF pilot (played by Tom Hiddleston) in post-World War II London packed an intense emotional wallop in director Terence Davies' adaptation of the 1952 play by Terence Rattigan. Going against her: the film was little seen and opened way back in March. Also, she already has an Oscar, though it's in the supporting category for The Constant Gardener (2005).
Keira Knightley for Anna Karenina
Showing she's all grownup and more than ready to play in the big leagues, Knightley tore into the challenging role of a 19th century adulterous aristocrat with fervor and commitment in director Joe Wright's version of the classic Leo Tolstoy novel. Going against her: critical reaction was mixed and Knightley is being measured against memories of Greta Garbo and Vivien Leigh in the same role.
Naomi Watts for The Impossible
While many consider the King Kong star to be Australian, she was born in England and still carries a British passport, despite having moved Down Under as an adolescent. In The Impossible, a drama based on a true story about a vacationing British family swept up and separated by the tsunami that struck Thailand in 2004, Watts suffers both emotional and physical hell as a mother desperately trying to survive. Going against her: some will argue that Watts' part is more of a supporting role, since her character goes missing for a chunk of the movie.
Helen Mirren for Hitchcock
Oscar voters love big scenes in which actors get to emote, emote and emote, and Mirren has a corker of one near the end of this entertaining but slight biopic about British director Alfred Hitchcock (played by Anthony Hopkins). Portraying Alma Reville, who was Hitchcock's longtime wife and creative helpmate, Mirren gleefully launches into a scene in which Alma tells off her spouse at length and in no uncertain terms. Going against her: the movie is minor and Mirren's turn here hasn't the breadth of her Oscar-winning role in The Queen (2006).
Maggie Smith for Quartet
Coming on the heels of her Emmy win this past fall for her vinegary portrayal of the Dowager Countess in Downton Abbey, don't be surprised if Dame Maggie gets some Oscar love for her role as a tart-tongued former opera diva in Quartet. The ensemble film, set in an old folks home for musicians and directed by Dustin Hoffman, showcases Smith's extraordinary talent for playing wittily sharp-tongued characters while also revealing their underlying vulnerability. Going against her: the movie feels lightweight and Smith already has two Oscars crowding her mantle (for Best Actress for The Prime of Miss Jean Brodie and Supporting Actress for California Suite), though the six-time nominee hasn't won since 1979.
NEXT: POSSIBLE BEST SUPPORTING ACTORS
Read More
Filed Under: