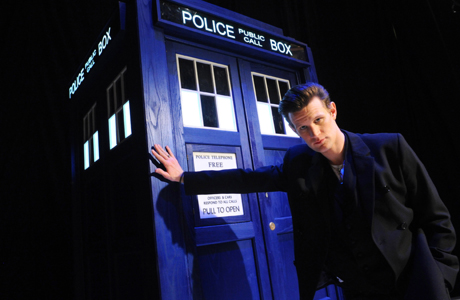 A true music connoisseur, Doctor Who's Matt Smith was kind enough to spend several minutes with us scrolling through his iPod and highlighting the tracks and albums he loved this past year. Certainly, he has embraced quite a few artists of the moment — alt-J and Jessie Ware jump out for him — but fittingly for a man who plays a Time Lord, Matt spent a lot of this year discovering (and re-discovering) great music from other eras. "I've gone back in time instead of downloading a lot of new stuff," he told us, waxing rhapsodic about classic tunes from Paul Weller and legendary trumpeter Herb Alpert.
Sample his list below:
alt-J, An Awesome Wave album (2012)
Herb Alpert, "This Guy's in Love With You" single (1968)
http://www.youtube.com/watch?v=hkK04szvPf8
Paul Weller, "The Changingman" single (1995)
Rodriguez, Searching for Sugarman soundtrack (2012)
http://www.youtube.com/watch?v=Qh-99_1k3mE
Jack White, Blunderbuss album (2012)
Love, Forever Changes album (1967)
Jessie Ware, "110%" single (2012)
Richard Hawley, Standing at the Sky's Edge album (2012)
The Maccabees, Given to the Wild album (2012)
Michael Kiwanuka, Home Again album (2012)
Mumford & Sons, "I Will Wait" single (2012)
What do you think of Matt's list? And compare his list to Anglophenia's own favorite songs of 2012.
Read More
Filed Under: