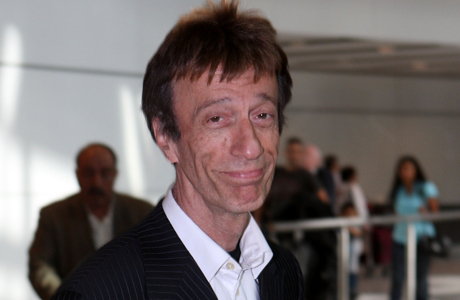 2012 saw a lot of glorious things happen in Britain, not the least of which was the Olympic Games, and its accompanying opening ceremony. But we also said a final goodbye to some of the country's finest talents, some globally known, some not. Only this week we had the sad news that Gerry Anderson had passed away, and he joins a funereal roll call that includes Coronation Street legends Bill Tarmey and Geoffrey Hughes (also a Royle Family regular who provided the voice of Paul McCartney in the the Beatles cartoon Yellow Submarine), family entertainers like Max Bygraves and Frank Carson, and Brian Cobbey – the iconic voice – to British ears at least – of the telephone service known as the speaking clock.
Two of British comedy's elder statesmen died this year, Eric Sykes, the only man in showbusiness to have written with Spike Milligan AND been killed by Voldemort in a Harry Potter movie, and the ageless (by which I mean eternally old, but never doddery) Clive Dunn. Clive was the last of the platoon that made up the deathless sitcom Dad's Army – aside from Ian Lavender, who played Pike, the hapless young recruit – but had played one of the oldest characters in a very old cast, during its '70s heyday.
From the field of rock music, Deep Purple's Jon Lord, the organist and pianist that carved a space for himself within the guitar-happy world of heavy metal, passed away in July. Jim Marshall, a man whose name Jon will have been more than familiar with, as he built the Marshall amplifiers guitarists swear by to this day, had died in April.
And then there was Davey Jones, the '60s heartthrob whose teen appeal lead the Monkees to such astonishing heights they were able to transform, Pinoccio-style, into a living breathing real band.
Back in the Beatleverse, we also lost the ever loyal Victor Spinetti, who, apart from his lifetime career as an all-rounder on stage and on screen, appeared in three of their movies, and forged a close friendship with all of the fab four.
Another '60s alumnus who passed away this year was the revolutionary hair stylist Vidal Sassoon, who took his final cut at the age of 84. An equally huge figure within his field, the TV astrologist Sir Patrick Moore, made his final trip into the heavens only a couple of weeks ago.
The most mystifying death, if that's any kind of commendation, was that of the director Tony Scott, who jumped from a bridge in Los Angeles county, leaving suicide notes in his car. No motive has been established to date, and rumors that he had cancer were ruled out by his autopsy.
And then there was the final silencing of the harmonic and songwriting partnership between brothers Barry, Maurice and Robin Gibb of the Bee Gees. Maurice died of a heart attack in 2003 while awaiting surgery for a twisted intestine, while Robin, his twin brother, died of liver and kidney failure as a result of colorectal cancer, earlier this year. This leaves big brother Barry as the sole remaining member of the partnership that has dominated popular music for more than five decades.
Here's Robin in his prime, with his brothers at his side:
http://www.youtube.com/watch?v=SDrf0rLvP2A
*salutes*
Read More
Filed Under: