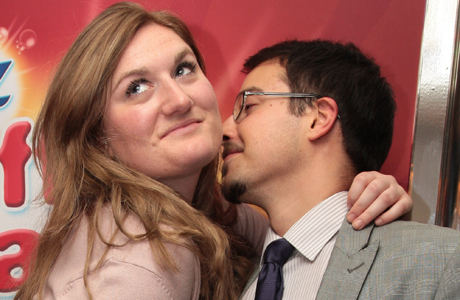 If your expat game plan includes finding love then you'll need to wrap your brain around romancing the American way. On the surface, U.S.-style dating looks a lot like it does elsewhere: find someone you don't hate on sight and who you strongly suspect isn't a serial killer, then arrange to meet for some kind of shared food or beverage experience. If all goes well, schedule a second date. If not, don't. But according to my singleton sources in the U.S., within this skeleton format there are certain cultural etiquette differences that you need to know if you're a Brit trying to snaffle an American partner on their turf.
Here, people tend to take a business-like approach to finding a mate. It's like a job or house hunt, which means investigating more than one prospect at a time. While early days juggling of potential partners is considered normal in the U.S., try to limit yourself to one per evening and refrain from discussing your other dates with the person trying to delicately chew burrito opposite you. Agreeing to "be exclusive" is a discussion you'll have at some stage if things are progressing well. If it's not been mentioned yet, best assume your date is currently pretending to laugh at a couple of other people's jokes too.
This candid communication style might not sit well with awkward, bumbling Brits — especially men — who tend to recoil from conversations about their feelings. So, whereas back home you might find yourselves pootling along, and even up the aisle, having never bothered with the am-I-the-only-person-you're-dating? talk, here it's expected. Looking out for subtle exclusivity cues, like him introducing you as "my girlfriend" or being invited to meet the parents, is no substitute.
Naturally, I'm generalizing, but American women seem more upfront, assertive and opportunistic than their British counterparts. I've watched girls in coffee shops and bars, not only surveying man candy from afar but, like lionesses eyeing a fat antelope with a dodgy knee, zoning in and making their intentions known. The gents, meanwhile, lean toward traditionalism. American men, so I'm told, are more likely to offer to pay for dates and bat away a woman's wallet.
Early discussions about what you're looking for, be it a husband or casual hook-up, are also commonplace here. So, unless it's the second meeting and your date presents you with the wedding "mood board" she's been working on since she was seven, try not to recoil at her forthrightness. At least this way you'll quickly identify whether you want the same things. I know of one British couple who left the baby talk until years after the wedding. When he eventually confessed to wanting to sire a football team, his wife announced that she was getting her tubes tied. So, while an early, frank discussion may seem odd and intense to a Brit, it could stave off a relationship catastrophe later on.
What other dating tips do you have? Tell us below:
Read More
Filed Under: