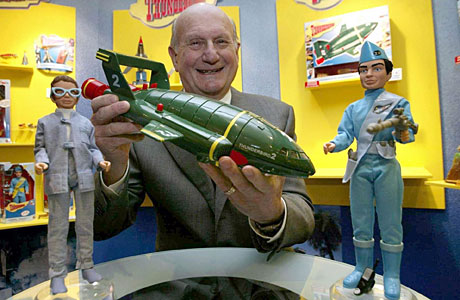 Gerry Anderson, who died yesterday at the age of 90, had never intended to work solely with puppets. His ambitions lay firmly in Hollywood, making Bond-style blockbusters with real actors and huge budgets.
It's all there in the confident, strident music that permeates every Anderson production: these were never intended to be merely children's entertainments in the vein of Muffin the Mule, these were proper action and adventure sci-fi movies that happened to be made with puppets. Or, as Gerry's movie-referencing show titles preferred to put it, they were "filmed in Supermarionation."
And let's remember even James Bond films used models to simulate real action at the time.
So, in tribute to the passing of a giant of British broadcasting, here are five entire episodes of Gerry puppet magic:
Fireball XL5
Gerry and Sylvia Anderson's first big hit show, and everything is already in place. The rockets, the music, the strange vehicles and amazing technology, the puppets and their enormous heads.
Stingray
http://www.youtube.com/watch?v=jotnWt5GM08&playnext=1&list=PL4A0DA99EC1A90CFF&feature=results_main
A consolidation of Fireball's success, with submarines taking the place of rockets and an actual puppet mermaid called Marina.
Thunderbirds
http://www.youtube.com/watch?v=ljQ1qs0Cuwk
The smash hit: Thunderbirds is the tale of International Rescue, a humanitarian organisation with the resources of Batman, the teamwork of the Avengers, and the uniforms of the Fantastic Four. Plus Lady Penelope, Parker and Brains and an amazing theme tune.
Captain Scarlet and the Mysterons
http://www.youtube.com/watch?v=bLBkYEzl700
You'll notice the heads on the puppets are getting smaller and more to scale than before, and in true late '60s style, the villains are psychedelic circles of light with doomy voices: Far. Out.
Joe 90
The story of a young man who uses his father's brain transference invention thing (it looks like a big spinning metal orange) to suck up the knowledge of experts into his own mind, and go on adventures. To this day, the opening credits give me chills.
And that's before we even consider the live action sci-fi wonderment of Space: 1999.
Read More
Filed Under: