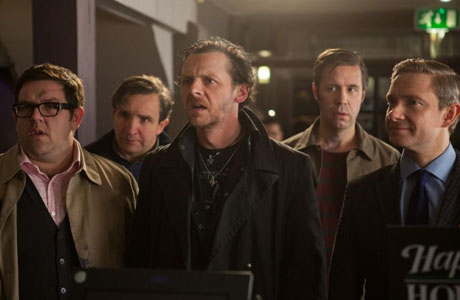 Simon Pegg and Nick Frost reunite in The World's End, reports The Daily Blam.
Like Shaun of the Dead and Hot Fuzz, The World's End is a collaboration co-written by Pegg and Edgar Wright. Joining the team are actors Martin Freeman (Sherlock; The Hobbit), Paddy Considine (Hot Fuzz), Eddie Marsan (Snow White and the Huntsman), and Rosamund Pike (Jack Reacher).
If you've been to the theater recently (specifically to see The Hobbit) you may have noticed that there are an unusual amount of apocalyptic/end-of-the-world themed movies coming out in 2013. It was like one never-ending trailer.
Well, this one has a twist … Pegg plays Gary King, a 40-year-old man, pining over his teenage years. He drags his reluctant mates to their hometown in an attempt to conquer an epic pub crawl which will land them at the pub by the name – "The World's End." We're not quite sure how and when it happens but it sounds like the future of humankind rests on their shoulders.
Bottoms up boys!
The World's End is currently filming in the UK and is scheduled to arrive in the U.S. on October 25, 2013.
Are you happy to see these guys joining up together? 
Read More
Filed Under: