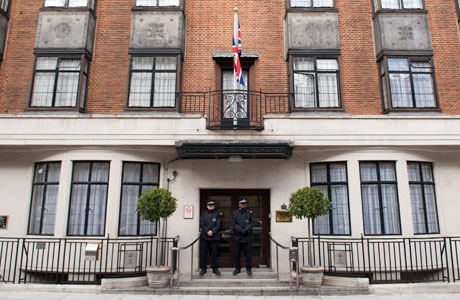 The other day, we ran the story about the two Australian radio DJs who had rung London's King Edward VII Hospital, pretending to be the Queen and Prince Charles. It wasn't a malicious phone call per se, but they wanted to see how tight the security around the Duchess of Cambridge was, especially after the sudden announcement of her pregnancy and the immediate revelation that she was in the hospital being treated for severe morning sickness.
They got through to a ward nurse, who believed the ruse, and offered the pair some information which they duly shared on air.
Today, the news has just broken that one of the nurses from the hospital has been found dead.
Police were called to an address in central London at 9:35 this morning, not far from the hospital, after a woman was found unconscious there. They later confirmed that she had died, that she had worked at the hospital, and that her name is Jacintha Saldanha.
BBC News are reporting that while Jacintha had been the person who took the call on the day, she was not the person who revealed the duchess's medical details. They also point out that she had not been disciplined by the hospital.
The hospital said in a press statement: "We can confirm that Jacintha was recently the victim of a hoax call to the hospital. The hospital had been supporting her throughout this difficult time."
It added: "Jacintha has worked at the King Edward VII's Hospital for more than four years. She was an excellent nurse and well-respected and popular with all of her colleagues."
The St James's Palace statement said that William and Kate "were looked after so wonderfully well at all times by everybody at King Edward VII Hospital, and their thoughts and prayers are with Jacintha Saldanha's family, friends and colleagues at this very sad time".
A palace spokesman added that "at no point did the palace complain to the hospital about the incident. On the contrary, we offered our full and heartfelt support to the nurses involved and hospital staff at all times."
Scotland Yard said the death was being treated as unexplained and that they would continue with their enquiries.
Read More
Filed Under: