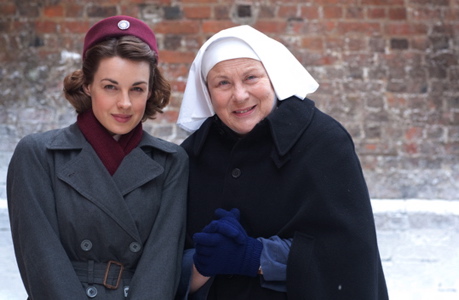 It's going to be an exhausting Christmas Day this year for fans in England of both Downton Abbey and Call the Midwife.
That's because the two hit shows are airing back-to-back, season-ending holiday specials on the evening of December 25 in the UK.
Pity — or envy — the poor British viewer. After a long day of opening presents, preparing and then eating a huge Christmas dinner and pudding, and tearing open crackers (those shiny, gift paper-wrapped, trinket-containing tubes), it will be time to plop down in front of the telly to watch three hours and 15 minutes straight of prime period drama.
BBC One will air its 75-minute Call the Midwife special from 7:30 to 8:45 p.m. Then, forget about taking a bathroom break, viewers will have to switch over immediately to ITV1 to catch Downton's two-hour special, which begins at 8:45.
There was some jockeying for time slots for the dueling specials by the rival channels, according to press reports. BBC had to switch Call the Midwife to an earlier kick-off after ITV moved Downton's starting time from the originally scheduled 9 p.m. to 8:45. If the popular shows had overlapped, there surely would have been howls of protest from fans.
In the U.S., where both shows air on PBS, the third season of Downton begins January 6.  Here's a new, 30-second preview just released by PBS:
Watch Downton Abbey, Season 3: The Wait is Over Preview on PBS. See more from Masterpiece.
—————————————————–
Are you counting the days until Downton Abbey's Season Three starts in the U.S.?
—————————————————–
Read More
Filed Under: