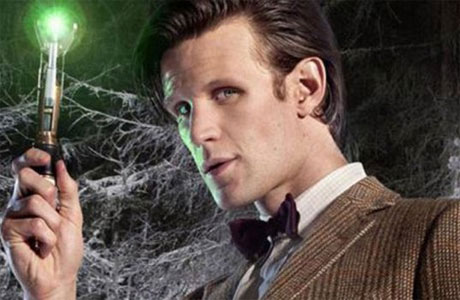 Ah, the holidays: The festive lights, the whimsical decorations, the delicious seasonal treats… the nightmare that is holiday shopping and the overwhelming task of having to navigate through hoards of people trampling over each other to snatch up the perfect gifts for their loved ones. Why subject yourself to that nonsense when you can order your gifts online? Luckily for you, BBC America's Online Shop has something for everyone on your Christmas list.
This one goes out to the Whovians. Here are some fantastic Doctor Who-themed gift ideas you, or someone you know, might want to find under the tree:
Keep your timeline in order with this replica of River Song's journal. And remember: if you ever bump into an earlier version of yourself, no spoilers!
Need a writing utensil for that journal? This replica of the Tenth Doctor's sonic screwdriver doubles as a writing implement! You can even leave yourself secret messages in invisible ink which can decoded with the screwdriver's light.
This cookie jar disguised as a Police Box is the perfect place to hide your secret stash of cookies. When you open it, the cookie jar lights up and makes the TARDIS' materializing swooshing noise so you'll know when someone tries to steal your Jammie Dodgers.
4. Sonic Screwdriver Universal Remote Control
Probably the closest thing you can get to owning an actual sonic screwdriver, this universal remote can control TVs, iPod docks, DVD/Blu-Ray players and more with a flick of the wrist.
Always keep your cuppa tea warm with this ceramic TARDIS-shaped ceramic mug and removable lid.
Exterminate bland food with this TARDIS salt and Dalek pepper shaker set.
Whether you're planning on cosplaying as Tom Baker's Doctor or simply trying to keep warm this winter, this signature fourth Doctor scarf will help get the job done. Comes in 6 feet and 12 feet long. Jelly Babies not included.
Have the Doctor's trusty tin dog guarding your desk with this adorable k-9 bobble head doll.
We all get a little stressed out during the holiday season. Give your little adipose buddy a squeeze and the stress just walks away!
Geek up your Christmas tree with these Doctor Who tree ornaments. Comes in Dalek (Red AND Yellow), TARDIS, and K-9.
Which gifts would you like to find in your TARDIS stockings this year? Tell us below:
Read More
Filed Under: