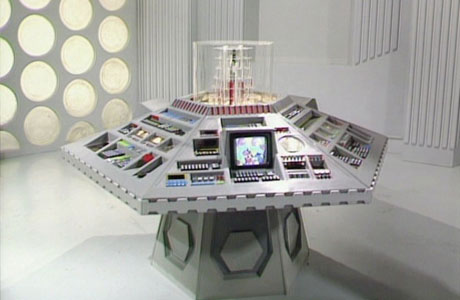 We've seen plenty of examples of people painting the exterior of, say, their shed, so that it looks like a TARDIS, and they're all wonderful. But there is a problem. If it's cold out, or rainy, you don't really get to experience the full glory of your conversion. What you want is a room with a TARDIS interior in it. Possibly with a life-size console, like the one in this picture, but if that seems a bit beyond the confines of your meager living space, you can always opt for TARDIS wallpaper instead.
The British company 3D Effect Wallpaper has made a textured wallpaper that recreates the design of the classic '60s/'80s TARDIS, with a combination of huge polka dots (or 'roundels') and columns, so you can fill any space.
It works like this:
Each roll being 52cm wide & 10m in length and has been color-matched to a paint sample from the 1980s control room set.
In fact there's only one drawback, they're based in the U.K., so shipping costs might be a bit high.
Well that plus the fact that even the Doctor doesn't have a home that looks like this any more, obv.
Read More
Filed Under: