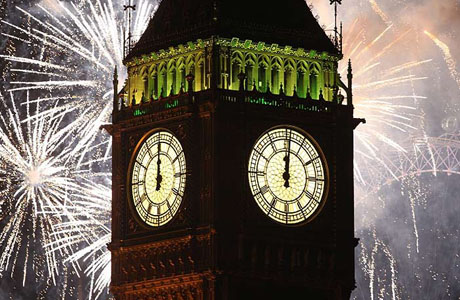 Yep, "Happy New Year" will get the job done but why not explore other ways to cheers the New Year!
Bit of history: While raising your glass and wishing someone the best began with the Greeks as early as sixth century B.C. it's said that "toasting" came into play with the English custom of flavoring wine with a piece of browned and spiced toast. In 1709 Sir Richard Steele wrote in an edition of The Tatler of a lady whose name was supposed to flavor a wine like spiced toast. This idea evolved into toast adding flavor to the wine.
He wrote: Let the toast pass; Drink to the lass; I warrant she'll prove an excuse to the glass!
Let's move along to a more traditional toast coined by 19th century British poet Lord Alfred Tennyson:
Ring out the old, ring in the new, 
Ring, happy bells, across the snow: The year is going, let him go; 
Ring out the false, ring in the true.
Bit of trivia: An old British custom is to open the front door of your home right before midnight to let the old year out and make room for the New Year.
Bit of song: In addition to toasts, there's song. When the clock on Big Ben strikes midnight, people all over the UK cross their arms across their chests, joining hands with old and new friends, singing Auld Lang Syne, which is a Scottish poem put down on paper by Robert Burns in 1788 and ultimately set to the tune of a traditional folk song. You may not recognize the name of the song but you will know the lyrics with the first line being, "Should old acquaintance be forgot and never brought to mind …"
Bit of tradition: Scots tend to ring in the New Year by raising their glasses filled with whiskey rather than champs. Hogmanay, which means the last day of the year, is celebrated in Scotland. Local customs include "first footing" which means the being the first person to step foot in a friend or neighbor's threshold and giving a gift.
Bit of custom: The Welsh ring in the New Year with the custom of passing out Callenig, a gift, which translates to "first day of the month." It's traditionally an apple with three sticks, like a tri-pod, which is used as a decoration and friendly gift. Today it may be more customary to give cheese and bread on New Year's day.
This Irish Gaelic (Northern Ireland/UK) toast says it all: Go mbeire muid beo ar an am seo arís; which translates into 'May we be alive at this time next year.'
How will you ring in the New Year!
Read More
Filed Under: