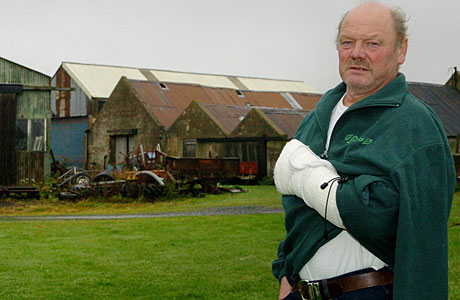 Everyone loves an underdog, especially one that's being harassed by the kind of overdog even a vegan wouldn't trust to guard their dinner.
The story of Donald Trump's contentious battle to get a super golf resort built amid the sand dunes of the Menie Estate, on the Scottish Aberdeenshire coast, has been emotively covered by the documentary You've Been Trumped, which follows local farmer and fisherman Michael Forbes' ongoing struggle to keep hold of his family's 23-acre farm, amid mounting pressure to sell up and have it bulldozed flat.
Describing his first meeting with Mr Trump, Michael told The Scotsman: "This whole carry-on has been going on for eight years, since I was approached when I was out walking on the beach and asked if I knew about Donald Trump's golf course.
"I had no idea who he was at that point. I might have kept my mouth shut, but I went right off him the first time I met him.
"He was being all nicey, nicey and talking about how successful he was and how much money he had. That was it for me. I took an instant dislike to him."
And that's when things turned nasty,  as the movie trailer illustrates:
As a result of the ongoing conflict, Michael did end up selling some of his land. An acre went to protesters, outraged that an area of outstanding natural beauty should have been annexed in this way. Although, the 'natural beauty' bit is clearly a hotly-contested topic, given that Michael's land was branded a "pigsty" by Donald.
Last night, Michael, whose home is still under threat from Trump International's intention to build a second course across the land, was voted Scotsman of the Year in the Glenfiddich Spirit of Scotland Awards. He took his place on the podium alongside Scottish Olympians and Paralympians, the Gaelic singer Julie Fowlis, and even Kelly Macdonald, who won an award for her work on Disney-Pixar's Brave.
Michael's citation made special reference to his popularity as a local folk hero, adding, "Michael was resolute in his determination to stand his ground. His story and the unfolding battle attracted international coverage and the recent documentary brought his plight to an even greater ­audience."
A clearly touched winner told The Scotsman: "I can't believe it really, I was amazed when I heard I'd been put forward for the award."
He explained that the battle is nowhere near over, but he's optimistic, by and large: "I'm still crofting but have had to stop salmon fishing as I don't have direct access to the beach anymore, but there's no way I'll ever sell up to Trump.
"I have 23 acres of land, which he says he needs for his second golf course, and there are 15 homes which still have the threat of a compulsory purchase order over them."
At the time You've Been Trumped was released, Donald's response was typically bullish: "All the morons that cause the controversy in Scotland have made my development more successful than anticipated."
So, does that mean that everyone's a winner?
Read More
Filed Under: