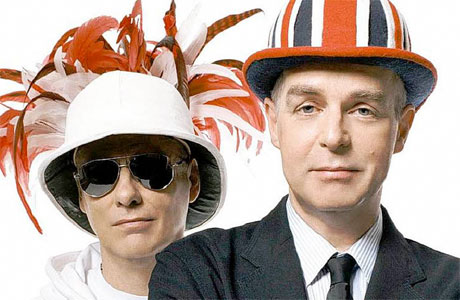 Note: this is not a subjective list made by two members of the Anglophenia writing team. This is a statement of scientific fact. Despite what you may feel with your hearts and hear with your ears, there have been no better songs this year than these, these songs represent a colossal peak for in British art in general and music in particular. Anyone who says otherwise is delusional, and a liar. And mad.
10. "Always Been Your Love" by Hot Chip
I've been scratching my head at the lack of year-end love for Hot Chip's In Our Heads, easily their most consistent work to date. And while the seven-minute "Flutes" is a tour de force, the album closer "Always Been Your Love" is the track that racked up the most plays on my iPod. It's a nerd-pop take on an AM-radio ballad that might be fitting for Bruno Mars, but with a bonkers touch: the coquettish spoken word bits from Gang Gang Dance's Lizzi Bougatsos, including an impromptu recitation of the alphabet (that works beautifully).
9. "Do Right By Me" by Ren Harvieu
Simply because it is gorgeous. Sung with infinite adult agony by a mere slip of a girl, only just out of her teens and fresh from a horrific medical ordeal that saw her cheat paralysis after she broke her back in an accident. It's all about the poise and the pain.
8. "Requiem in Denim and Leopardskin" by Pet Shop Boys
PSB fans who erroneously thought Neil Tennant and Chris Lowe's wittiest, most poignant songwriting ended with "Being Boring" or, more generously, "A Red Letter Day," will have to reckon with this sharply observed tribute to the duo's longtime makeup artist friend.
7. "Goran Ivanisevic" by We Are the Physics
Sometimes you need a song that will get you out of bed in the morning, put your socks on for you, clean all of your teeth in 10 seconds flat, throw a cup of Joe down your throat and physically lob you out of your own front door so fast you get scorch marks on your ears. This is that kind of a song. It's rude, crude, impolite and as much of a physical rush as freefalling from space, only with none of the attendant risk of imminent death.
6. "Running" by Jessie Ware
Sure, the swooning opening – "Your words alone could drive me to a thousand tears" – is right out of Sade's Love Deluxe playbook. But while Jessie has borrowed her atmospherics and her hairstyle from the '80s jazz-pop queen — and trust us, she could do far worse in her references — "Running" builds to a satisfying climax, awakening from its lush stupor and bringing us some of the most passionate singing of the year.
5. "Cough Cough" by Everything Everything
There's been a definite thing this year for bands attempting to fiddle with the language of pop and rock, like a scientist groping towards a vaccine against male pattern baldness. Alt-J and Django Django both had a fair crack at it, but their spiritual forebears are the EvEvs, a band who condense so much information into their twiddly songs, they're like a musical zip file.
4. "Tessellate" by Alt-J
Among this track's many achievements: turning evisceration by sharks into the sexiest extended metaphor of the year, and finding a new word for boning. The love-making song for those with strong stomachs and vast vocabularies.
3. "Laura" by Bat for Lashes
Sonic re-invention is all very well, but sometimes all you need is a beautiful melody, an impassioned singer and a decent story to tell. And in "Laura," Natasha Khan created such a dizzying potion that the fact she appeared on her album cover in the buff, wearing a man as a coat, became a mere footnote to the delightful music within.
2. "Under the Westway" by Blur
Well now, this could be a bone of contention, in that it was very much sold to Blur fans as being their grand finale, leading up to their concert on the last day of the Olympics, a farewell to arms for this band of war-torn brothers and comrades in… what's that? They're doing festivals in Europe next year? This isn't goodbye at all? But it's such a wonderfully mournful goodbye, a nostalgic, reverent trip around London from this most London-centric of bands! Doubleyew Tee Eff, maan! etc
1. "Ill Manors" by Plan B
A protest song that would as soon kick you in the knackers and steal your phone as wonder why we can't all just get along. But also a thrilling, eloquent and valid response from some of the poorest parts of Britain, to years of media demonisation and political brinksmanship, especially after the London riots last year. Plan B's palpable rage is an icicle down the neck for anyone who believes everyone in social housing should just pull their socks up: "Call us scum, freeloaders, hoodies, chavs; take away everything we've got, leave us with nothing to lose; and then expect us to behave like model citizens? Shut up."
What's your song of the year? Tell us here:
Read More
Filed Under: