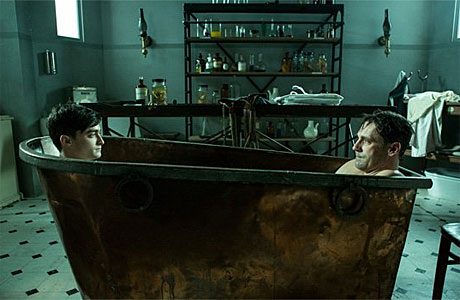 It's because they're both in a Sky Arts TV adaptation of Mikael Bulgarov's short stories, A Young Doctor's Notebook, a mini-series set to air at the beginning of the December in the UK.
The comedy drama is largely based on Mikael's dramatised accounts of his experiences as a traineer doctor in the village of Muryovo in 1917, just as the Russian Revolution is getting started. He has to find a way to treat patients who are suspicious of his newfangled fancy book learning, and a fairly set idea of what they want from medicine.
Daniel plays the young doctor, while Jon is his older self, looking back on his successes and failures with a bleak eye. And they talk to each other. So this scene in the bath here isn't quite as, what's the word, physically charged as it may appear.
As yet there has been no announcement as to when this will air in the US, so here's another picture, while we wait.
Clearly this character got a lot taller, as an older man…
Update: There's a trailer! It looks rather good!
Read More
Filed Under: