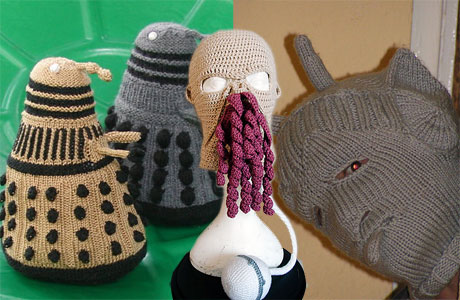 When it comes to showing your passion for Doctor Who, cosplay is all very well, but it's not always practical. Knitting a Dalek, however, is the kind of thing you can do to relax without having to get all "hey! How's my Dalek look?" about it.
So, in tribute to the wooly Whovians with nimble-fingers, here's a little gallery of some of the designs on the extraordinary knitting site Ravelry. We've put links to the designs and designers in with the pictures, partly to give credit where it is due, but mostly to encourage you to have a go yourselves.
Needles at the ready? Let's start with something fairly simple, and yet practical:
Mind you, are you really going to want to scrub dishes with this once you've finished? I suppose you can always claim to be deleting the dirt…
Let's face it, it would not be a proper Whovian knitfest without this.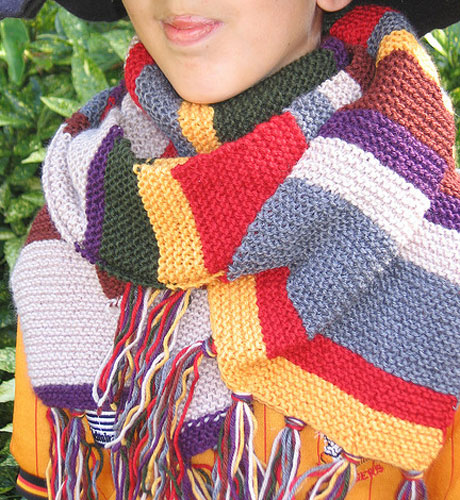 A fiddlier knit, all told, but worth it.
Yep, that's the living gargoyle from the Third Doctor adventure The Daemons, made into a nice warming ski-mask. And he's not the only one (see below).
Astonishing. Even with Indiana Jones's hat, shades and a sock hand.
LOOK IT'S LIKE A BABY OWL WITH ARMS!
Two different Dalek designs in one. Amazing.
Another relatively simple one (compared to the Ood at any rate) and rather swanky to boot.
Imagine getting out of the shower and wiping your feet on that face. What? You already have?
And while we're on the topic of feet. This is the kind of cosplay you can do every day.
Now, go and get knitting!
Read More
Filed Under: