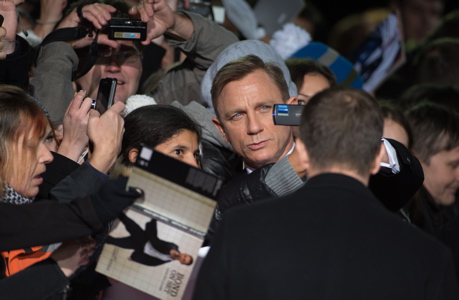 Skyfall is, according to many who've seen it, the best Bond ever. We've been hearing that for more than three weeks now from reviewers, but for nearly two weeks, we've been hearing it from actual moviegoers in Britain and elsewhere around the world, whose ticket purchases brought the film's opening ten-day worldwide gross  to $287 million. That's half of what Casino Royale made in its total run, and Skyfall hasn't even made landfall in the U.S. yet.
Even the Vatican has gotten to see the movie (more about that below), but American Bond fans won't get to see it until this Friday (or perhaps tomorrow for those lucky enough to get into early IMAX screenings). That's two weeks after it opened in the UK, where it's brought in £37.2 million ($59.5 million) in box office receipts, breaking the record previously set by the final Harry Potter movie.
"It may now be on course to break the record for the highest-grossing film in UK cinemas of all time," writes the Guardian.
As we eagerly await our opportunities to see it (most likely, several times) in theaters here, we got to wondering just why there's the two-week time lag.
And, okay, we'd understand that the UK might have first dibs on James Bond – it's not like we're thinking the country is irrelevant, as Blofeld did in Diamonds Are Forever, when he wondered why 007 even bothered to show up to thwart his latest nefarious plan: "Mr. Bond, your pitiful little island hasn't even been threatened."
No, we get the special relationship, and we'd understand if the reason Skyfall opened earlier in the UK were some sentimental nod to Bond's country of origin. But the movie opened in 30 – count 'em 30 – other countries on October 26 as well, including France, Hungary, Brazil and Russia. It even opened in Finland, Bulgaria, Malta, Iraq and both Israel and the Occupied Palestinian Territories on the same date. And then last Friday (Nov. 1), 12 other countries, including China, Ecuador, Estonia and Kenya, all got Bond before we did.
What gives? Is it an international conspiracy hatched by SPECTRE or SMERSH?
Alas, the answer is far more prosaic. The release schedule is timed to reflect different countries' attendance patterns and to build the strongest possible momentum – though it really boils down to, not surprisingly, money.
By rolling Skyfall out first in the UK, Europe and elsewhere, the studio hopes to flame the fires of worldwide anticipation. It's the same strategy that was used for the last Bond movie, Quantum of Solace.
Also, seasonal moviegoing habits differ from country to country. British "half term" school breaks come at the end of October, for example. Opening in November in the U.S. helps to poise the movie for Thanksgiving and beyond.
• In Italy, where Skyfall opened on Oct. 31, it was the second biggest opening of a Hollywood movie in the country's history. And it also met with Vatican approval, a fact that's been noted around the world.
Although we don't know whether the Pope has seen the movie, the Vatican's official newspaper, l'Osservatore Romano, gave the movie a rave review, calling it the series' best entry and running a total of five articles about 007 last week.
Under the headline "License to Cry," the paper wrote that Skyfall's Bond is "more human, capable of being moved and of crying: in a word, more real."
The paper noted the "beautiful women" and also praised the character of M, saying that actress Judi Dench brings out "the fragility of a woman who hides behind the cold mask of the boss of the powerful MI6, rendering her less distant and more appealing." (via Reuters)
Read More
Filed Under: