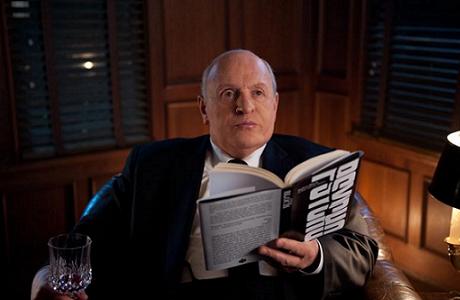 Although Sir Anthony Hopkins doesn't bear a close physical resemblance to Alfred Hitchcock he does very effectively portray the portly Master of Suspense in the new Hitchcock film out this week.
"I didn't want to put on weight, that was the last thing I wanted to do, I wanted to try to get the voice right," he says. He also didn't rely too heavily on elaborate makeup: "It looked like complicated makeup but it wasn't. It was just a prosthetic that was put onto my chest – and then a little tip on my nose."
The film is set during the making of Hitchcock's 1960 film classic Psycho which was his most commercially successful movie. The focus is on the relationship between the director and his wife Alma played by Dame Helen Mirren.
Although there's a generosity of spirit that infuses the portrayal it isn't a totally flattering picture of Hitchcock that emerges. But it stops short of representing him as a sexual predator as was the case with this year's BBC/HBO telefilm The Girl.
"Whatever Hitchcock's sexual preferences were it doesn't matter," says Sir Anthony, adding: "I found him a very vulnerable man."
Many critics have warmed to Hitchcock – although some have complained that the story is superficial. The picture marks the feature film directorial debut of Britain's Sacha Garvasi whose previous credits include the well received documentary Anvil: The Story of Anvil. He's put together a lively, enjoyable movie which is really helped by the strong performances of its leading actors – Sir Anthony and Dame Helen – who've never worked together before.
Are you a fan of Hitchcock?
Read More
Filed Under: