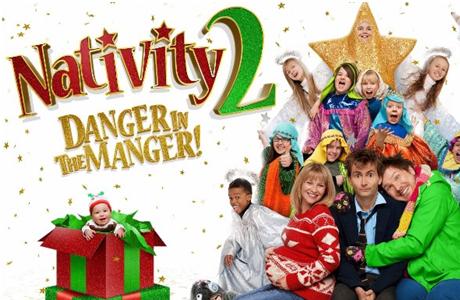 If you're not in the holiday spirit just yet, this may get you in the mood. David Tennant (Doctor Who) stars in Nativity 2: Danger in the Manger, the sequel to Nativity (2009) originally starring Martin Freeman. The film premieres in London on Tuesday, November 13.
As we know, Freeman is tied up with Shelock and The Hobbit. While he will be missed, we welcome Tennant to take on the dual-role as the unsuspecting teacher Mr. Peterson who, with his class, goes up against his golden boy twin brother (also played by Tennant) in the primary school 'Song for Christmas' competition. Mr. Peterson isn't alone in his quest with his lovely wife, played by Gavin and Stacey's Joanna Page, in his corner. As well, the delightful and hilarious Marc Wooton (Nativity) makes his return as the good hearted but sometimes menacing teaching assistant Mr. Poppy.
Nativity 2: Danger in the Manger Trailer
In case you missed it … Nativity!
The film will be in theaters in the UK on November 23. As of now, it's not scheduled to appear in U.S. theaters. Crossing our fingers it makes it to On-Demand!
Are you looking foward to the holidaze?
Read More
Filed Under: