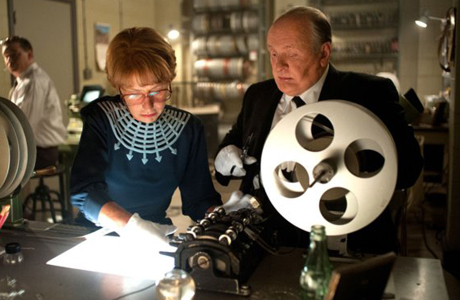 Dame Helen Mirren, who's portraying filmmaker Alfred Hitchcock's wife Alma in the new picture Hitchcock, says she would have loved to have worked with the Master of Suspense. But she adds, "not when I was young, but now yes."
Hitchcock, who died in 1980, didn't appear to have the highest regard for actors: he once famously likened them to cattle. Not every actor liked him.
Actress Tippi Hedren who, if the new HBO/BBC telefilm The Girl is to be believed, views Hitchcock in predatory terms after working with him on two of his films: The Birds and Marnie.
But, for Dame Helen, it's Alfred Hitchcock's professionalism that she admires. "His preparation was absolutely so detailed," she says.
What becomes apparent in Hitchcock is the extent to which Alma Hitchcock was involved in her husband's films. She had skills as an assistant director, screenwriter and film editor — and expertise in continuity — for Hitchcock she seems to have been an all round professional sounding board.
Mirren says Alma "was there every step of the way" in Hitchcock's filmmaking process.
Oscars oddsmakers are predicting that Dame Helen may get a best actress nomination of her portrayal of Alma Hitchcock. If she succeeds on that front, it would mark her fifth time in the Oscars contest.
Although Dame Helen has been praised for her performance in Hitchcock, the response to the film itself has been mixed.
While some critics like it — and find the film fun — others see it as superficial and too full of conjecture.
Are you going to see Hitchcock? What are your thoughts on Hitchcock as a director, particularly of women?
Read More
Filed Under: