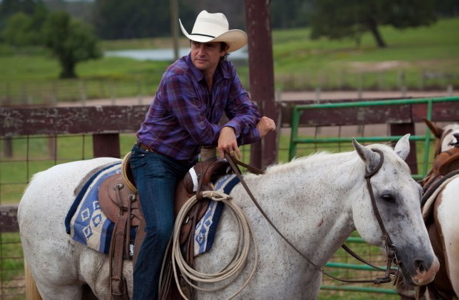 "You can always tell a cowboy, but you can't tell him much."
The saying could have come from the old West. Or it could be from the vaudeville circuit.
Don't go botherin' about it now.
All you need to be concernin' yerself with is that this here post is about next week's episode of Richard Hammond's Crash Course, premiering Monday, November 26, 10p/9p.
Richard is a cowboy.
That's right, pardner. And don't you ferget it.
Yes, siree, he'll be ropin' cattle and packin' rifles and a six-shooter on next week's Crash Course. So you'd best not be getting in his way.
Of course, the cowboy challenge of next week's Crash Course immediately led us to think about one of our favorite western novelty songs, "I'm an Old Cowhand (on the Rio Grande)" by Johnny Mercer. Though all the lyrics would generally apply to the Hamster, there's one section that would appear to have special resonance:
I'm an old cowhand, and I come down from the Rio Grande
And I learned to ride, ride, ride 'fore I learned to stand
I'm a riding fool who is up to date
I know every trail in the Lone Star State
Cause I ride the range in a Ford V-8
Here's a version of the song from the 1936 musical Rhythm on the Range, with Bing Crosby, Louis Prima, Martha Raye and the Sons of the Pioneers:
• If you haven't seen this week's Crash Course, head over to the show's blog and MacKenzie Wilson's episode recap. Richard was back in New York, learning how to be a barber in Harlem from Kamal Nuru, "the undisputed king of barbering" as Richard referred to him.
"I think he did fairly well for the first time," Nuru said of Richard's efforts. "I was interested to see how he would get through process and he was great with directions. I've seen some individuals who have an interest in cutting hair do much worse."
One of the episode highlights was when Richard witnessed a rare battle of the barbers, played out on one customer's head:
In the second part of the episode, Richard learned how to build and test a helicopter at the Robinson Helicopter factory in Torrance, California.
• Richard's been spending a lot of time away from Britain, but, as his work on Crash Course's second season was winding up, he realized that there's no place like home:
• Airing right before next week's Crash Course episode is an all-new Top Gear special: Top Gear Uncovered. Hosted by Richard Hammond, the episode will take you behind the scenes in the show's production – and the results could give a whole new meaning to the phrase, "breaking the fourth wall." The special airs Monday, November 26 at 8:30p/7:30c.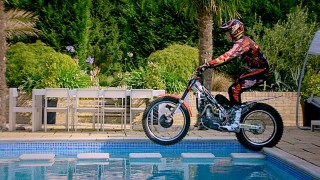 • The reports continue about the Top Gear trio being in the western hemisphere. Jalopnik writes that the guys are making one of "their traditional supercar road trips, which we're hearing is from Las Vegas to Mexico." The website offered a photo from "intrepid reader Lawrence" of the evidence of a Top Gear visitation in Baker, California.
Read More
Filed Under: