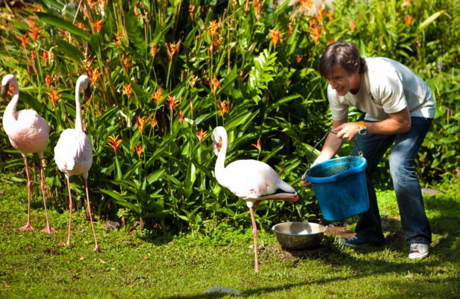 Top Gear Brit Richard Hammond may have learned how to speak American, but next week's Crash Course is all about, as Dr. Doolittle might say, talking with the animals. Because next week Richard goes to an exotic animal sanctuary in Hawaii and to southern California where he tries his hand at snake wrangling.
The all-new episode of Richard Hammond's Crash Course airs Monday, December 3, 10p/7pm PT.
• While Richard is wearing many different hats for his different jobs in Crash Course, last week he was told by TJ Haynie, his cattle wrangler boss, that he couldn't wear a famed Texas cowboy hat until he proved himself. But after his first day on the job, he was able to exchange his baseball cap for appropriate ten-gallon Texas headgear. Read all about it in MacKenzie Wilson's episode recap. Richard learned how to rope and vaccinate cattle ("It's hard, isn't it–this cowboy thing," Richard exclaimed.), engaged in target practice and even cleaned out stalls. On his third day, he did another essential task that isn't in many cowboy movies – politely termed palpating:
In the end, Haynie gave Richard his seal – er, brand – of approval.
"He was such a down to earth, nice guy, and has a big heart. If he came to your house for dinner, you wouldn't think he was any different than anybody else around you know," Haynie told BBC America. "And you couldn't ask for more effort – Richard can do whatever he wants to do, physically and mentally. He's very talented."
• One job that Richard hasn't taken on – yet – is protecting Gotham City. But TopGear.com got to take a ride-along in one of the new Batmobiles from The Dark Knight Rises. Top Gear writer Vijay Pattni rode shotgun in the Dark Knight's two-and-a-half ton Batman Tumbler, army camouflage edition, on Top Gear's track.
"I'm strapped inside the Tumbler, sat on Dunsfold's cold test track, waiting for a hotride, and it's a bit…industrial," writes Pattni. "There's a fuel tank next to me (worrying), there are pipes and cables and steel plates dotted all over the place, the window on my side of the Tumbler is no bigger than a peephole, and the side-view cameras aren't switched on."
But then the ride begins.
"Thankfully, our driver for the day switches the engine on – but not before handing me a pair of sound-deadening earphones. 'Be careful, it gets a bit loud in here.' Cue the Chevy V8, and some internal ear death. Christ it's loud. We set off, and the first thing that becomes immediately clear is how serene the ride is on a smooth, flat test track. Batman's derriere must have been cosseted supremely by those enormous tires. It's actually a lot like riding in a Jaguar XJ, albeit one with an added propensity for rockety-bullety-carnage."
The Dark Knight Rises is being released on DVD next Tuesday, December 4.
Read More
Filed Under: