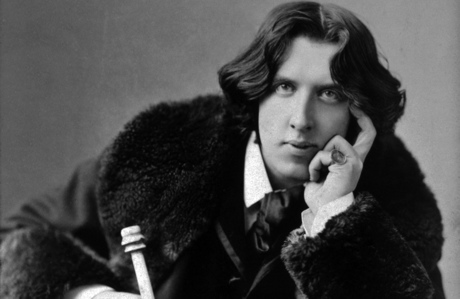 Here at Anglophenia, we're just wild about Oscar Wilde, which is why we are solemnly noting tomorrow's 112th anniversary of his death.
The Irish-born playwright and novelist, renowned for his wit, died in disgrace and poverty in a grotty Paris hotel on November 30, 1900.
"My wallpaper and I are fighting a duel to the death. One of us has got to go," he wrote shortly before he died.
He had fled from London to France upon being released from prison after serving two years for his conviction on gross indecency charges (for homosexuality) in 1895.
At the time of his death, Wilde left behind a trove of enduring works, including such frequently performed plays as The Importance of Being Earnest and An Ideal Husband, and the novel, The Picture of Dorian Gray. To this day, it's hard to graduate from high school without having been assigned to read his novel in an English class.
To mark the anniversary of his death, the British newspaper The Guardian surveyed and ranked what it dubbed "Wilde's most enduring epigrams."
The Number One spot on the paper's list for the single most quoted witticism by Wilde was, "We are all in the gutter, but some of us are looking at the stars."
Rounding out the top five were:
· "I can resist everything except temptation."
· "[A cynic] is man who knows the price of everything and the value of nothing."
· "The truth is rarely pure and never simple."
· "There is only one thing in the world worse than being talked about, and that is not being talked about."
For the full list and other related charts, click here:
————————–
Are you an Oscar Wilde fan?
————————–
Read More
Filed Under: