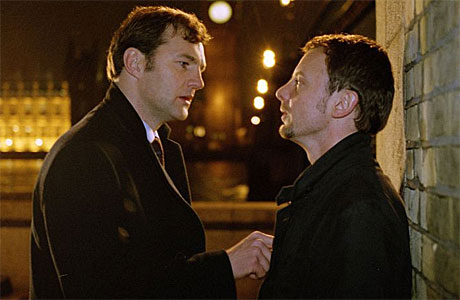 Greetings from Limeytown! I'm told you're having something of an election thing this week? Well, jolly good luck with it, and I hope you get the representative you feel you deserve.
While I have you in a political frame of mind, might I interest you in a roundup of fantastic British political dramas? They may be of some solace should the vote not go your way.
There again, they might just make everything feel even worse:
House of Cards (1990)
Lord Michael Dobbs, who wrote this, and therefore created the poisonous, imperious Francis Urquhart (the initials F.U. are not a coincidence), was Margaret Thatcher's chief of staff. And his theory on writing political drama is very straightforward, as he told Total Politics: "Take reality and water it down to make it credible, because when they [the politicians] stray, they stray in such extravagant manners."
"What people want in drama is someone who knows what they want, irrespective of how they go about achieving this."  And in the case of Francis, this involves murder and the deposing of a monarch. That's his version of watered-down reality!
State of Play (2003)
http://www.youtube.com/watch?v=nEUJHdj7C7U
As with a lot of political dramas, the trick to encouraging people to watch them is to reveal very little about what goes on, so that each new twist hits hard. So, if you haven't yet seen the BBC version of this story, or the movie adaptation (it's all there, crammed in, but lacks Bill Nighy, so what's the point?), please, please do. It's got David Morrissey and John Simm in. It's got James McAvoy and Kelly McDonald. And it's tremendous.
A Very British Coup (1988)
Sadly there are no available clips from this Channel 4 adaptation of Chris Mullins's dark satirical novel, in which a left-wing government – dedicated to unilateral disarmament of nuclear weapons and the removal of US airbases from British soil – is subject to a CIA-backed takeover from the right, lead by a newspaper magnate, and the head of MI5. Such fanciful nonsense, right Mr Murdoch?
GBH (1991)
Another drama in which it's best if you have no idea what is coming next, from the pen of Alan Bleasdale. Suffice to say that this trailer, showing Michael Palin being steamrollered by the militant local council thug Michael Murray (played by Robert Lindsay) only depicts the beginning of a story, and that by the end, your sympathies may not lie where you expect them to.
The Amazing Mrs Pritchard (2006)
And to end on a slightly lighter note, this aspirational drama pitches itself somewhere between The West Wing and King Ralph, in that it's a wish-fulfilment drama about an ordinary woman (played by Jane Horrocks) who finds herself running for parliament, the sole voice of integrity in a corrupt and institutionalised environment. The King Ralph element is that she wins.
Note: Fraser McAlpine is British, which explains a lot. 
Read More
Filed Under: