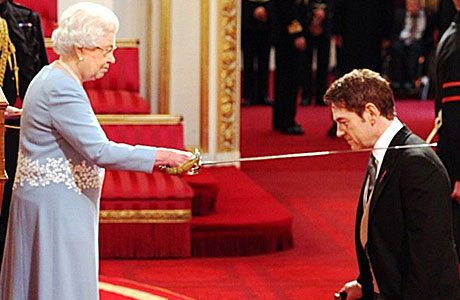 This may come as something of a surprise to anyone who assumed he had already been knighted, but today Kenneth Branagh took a trip up to Buckingham Palace to receive the old swordy shoulder-pat* from Her Majesty the Queen.
He's been made a knight bachelor for services to drama and the community of Northern Ireland, after being nominated in the June honors list. And yes, that means he is now Sir Kenneth Branagh.
After the ceremony, Sir Ken told reporters that he felt "humble, elated and incredibly lucky."
"When I was a kid I dreamed of pulling on a shirt for the Northern Ireland football team. I could only imagine how proud you might feel.
"Today it feels like they just gave me the shirt and my heart's fit to burst."
This means Sir Ken now joins the other thespian knights of the round table: Sir Michael Caine, Sir Patrick Stewart, Sir Ben Kingsley and Sir Ian McKellen. With a side table for Dames Maggie Smith, Judi Dench and Helen Mirren, of course.
* Note: it's not really called that.
Read More
Filed Under: