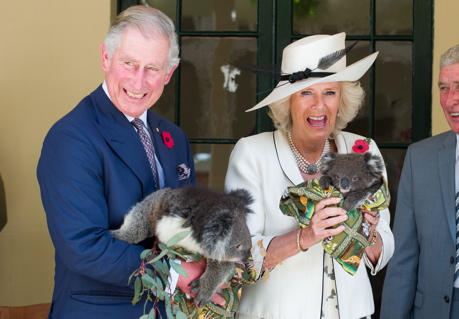 Prince Charles and Camilla have wrapped up their two-week whirlwind Diamond Jubilee tour of Papua New Guinea, Australia and New Zealand.
Today the couple visited Christchurch, where they met with people injured in the February 2011 earthquake and toured the worst-hit areas of the city with New Zealand's Prime Minister John Key. Reconstruction work from the damage is still continuing there more than a year and a half after the quake, and there was no pause during Charles' and Camilla's visit, reports The Australian.
The duke and duchess enjoyed lighter celebrations, taking part in a pop-up dance floor, which was itself part of the response to the earthquake by a charity project that has worked to find positive uses for open spaces left by the devastating tragedy.
On Wednesday, Charles celebrated his 64th birthday in Wellington, New Zealand, where he was feted by 64 Kiwis with the same birthday, including New Zealand's Governor-General Sir Jerry Mateparae. Coincidentally, it was also the birthday of the Prime Minister wife, Bronagh Key, reported Stuff.co.nz. The Prince was serenaded by Maori and English versions of "Happy Birthday" – and also by The Beatles' "When I'm Sixty-Four."
On Wednesday afternoon, the Prince visited the set of Peter Jackson's new movie The Hobbit, where he watched actor Peter Hambleton put on his "face."
Charles also received a Tolkien-esque birthday present from actor Mark Hadlow, dressed as the character Dori, who said the gift came according to director Jackson's orders:
On Remembrance Sunday, the Prince of Wales and the Duchess of Cornwall visited the Cenotaph monument in Auckland to remember New Zealand's war dead.
What trip Down Under would be complete without the inclusion of some cute and cuddly koalas? (Like there's any other kind.) In Adelaide last week, the royal couple spent some time with a koala couple.
http://youtu.be/zHM043OEyMI
When Charles and Camilla began their tour in Papua New Guinea, the prince took the opportunity to deliver a greeting in Tok Pisin, the official, and most widely spoken, language of the sprawling island nation.
The Papua New Guinea Post Courier offered a translation of his remarks: "I am the first born child of Her Majesty The Queen and am the tenth Lapan of Manus. I bring you greetings from Her Majesty The Queen of Papua New Guinea and from all my family members during this celebration of the Diamond Jubilee of the Queen." Charles then looked up, and asked the cheering audience: "Was my Pisin correct?" If the crowd's thunderous reaction was any indication, apparently it was.
Read More
Filed Under: