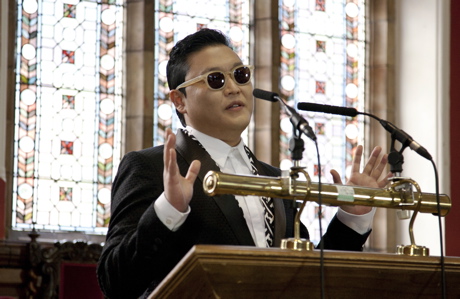 Psy's "Gangnam Style" is an undisputed international hit, and the UK has not been immune to its intoxicating success. It's the first K-pop (Korean pop music) song to top Britain's music charts, but its impact is by no means limited to the music world. For example, last month, London mayor Boris Johnson revealed that he and Prime Minister David Cameron had danced "Gangnam style" – and he wasn't speaking metaphorically.
Last week, Psy, whose real name is Park Jae-sang, personally brought Gangnam style to the UK. The 34-year-old pop phenomenon, who gives new meaning to the word omnipresent, was indeed everywhere, including, of course, the BBC and even the famed Oxford Union.
Psy spoke with some seriousness at Oxford about his comic song and his long struggle for popular success in Korea's music world. He said he's overwhelmed by the popularity of the international hit, but he's also wary of the responsibility it brings.
"With Gangnam Style, I am living in a dream and living in a nightmare," he said.  "To speak at the Oxford Union is a dream. The nightmare is the next song."
He said that he felt both "happy and sorry" about all the non-Korean audiences who enjoy the video.
"I feel happy because they look so happy," he said. "And I feel sorry, because they don't have any idea about the lyrics."
The Independent said that tickets were harder to get than they were for the Union's past guest speakers, including Mother Teresa, the Dalai Lama and, yes, Michael Jackson.
But even the King of Pop didn't lead his audience in a dance lesson, which is what Psy did.
In London, Psy was presented with a Guinness World Records certificate, for the greatest number of "likes" on YouTube (now over 5 million). The presentation was made at BBC 1 Radio studios, where the singer was interviewed by host Scott Mills, to whom Psy said he attributes his success in Britain.
"You're the guy that made me number one in the UK," Psy told Mills. "You did it all."
Psy also gave Mills a dance lesson. He later told the Observer's Jay Rayner that he's probably given more than 1000 Gangnam lessons – and, sure enough, he gave Rayner a one-on-one class, captured on video, at the Dorchester Hotel.
"The poor sod has to teach it to me, a man who, when they were handing out the feet, was clearly in the queue marked 'fish'" Rayner writes.
When it comes to Gangnam Style, everybody wants to get into the act.
This week, Zara Phillips joined other Team GB Olympic athletes to do a video for the BBC charity marathon Children in Need. The Queen's granddaughter is on the right:
Also trying his hand at the dance during the marathon was the BBC presenter Sir Terry Wogan, joined by TV host Tess Daly:
Just as the dance is easily parodied (see below), it's also malleable enough to be modified for charities and other causes. Last week, British sculptor Anish Kapoor gathered a group of artists in his South London studio to make a Gangnam Style video in support of Chinese artist Ai Weiwei, who had himself made his own Gangnam Style video earlier this month. Ai's song was quickly banned by Chinese authorities, and Kapoor hopes that the London version will help to support the dissident.
"Gangnam Style lends itself so well to political comment," Kapoor told BBC News. "This is about dissidents, all those people in the world who are imprisoned unfairly."
http://youtu.be/yYQGTmvHtl8
One reason that Gangnam Style is so easy to borrow for charity or even political purposes is that it has so quickly and so thoroughly become enmeshed in pop culture. There is, of course, a certain appropriateness to the British interest in the dance – the song, in its original context, was meant to poke fun at a particular segment of Korea's upper class, using equine references and movements – and isn't Britain famous for its own eccentric upper classes and their equestrian habits?
Still, that's not the sentiment to which London mayor Johnson was appealing when he joked that he and the PM danced Gangnam style – and Boris wasn't joking, as the Daily Mail pointed out. The two politicians broke into the dance at a retreat at the historic Chequers, a mansion in Buckinghamshire, after the PM started playing Psy's music on his iPad.
"To whoops of delight from their wives, and cheering from their children, he and Mr. Johnson aped Psy's famed 'horse-riding' dance moves, complete with reins-holding and hands-on-hips routines," wrote the Mail.
The meme is supreme. Can there be any doubts when even ITN produces a mash-up video of Boris Gangnam style? And that comes after a series of other British parodies, like the now famous "Eton Style" from the renowned boys public school. As of today, it has more than 2.7 million pageviews.
And a couple of weeks ago, Tadcaster Grammar School made its "Tad Gram Style" video to help raise money for Children in Need. ("We are from Yorkshire, the home of puddings and Yorkshire tea…allegedly.")
Of course, the only remaining question is the one the Guardian asked last week: "Can anyone kill Gangnam Style?" The paper's blog pointed out that "reports of its death have been greatly exaggerated"; it continues to resurface with renewed vigor.
"Quite possibly," writes the Guardian, "it will be danced by grannies at weddings in 2030 – the 21st-century equivalent of the conga line; the new macarena."
Read More
Filed Under: