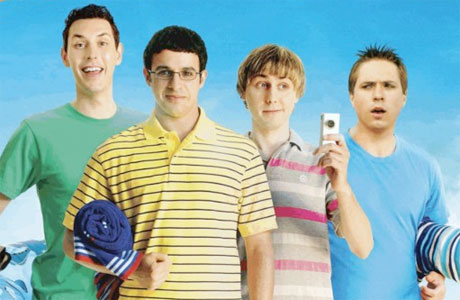 It's always nice to check in with some of your favorite showbiz rumors from time to time, and see how they're getting on, isn't it? So when we heard back in August that there was the glimmer of a ghost of a spirit of a phantasm of a chance that the Inbetweeners team might be considering making a sequel to their astonishingly successful movie, we reported on it. And now, well things are ticking along rather well, according to the show's creator Iain Morris.
Iain told Radio Times: "Because the film was genuinely independent, there's no studio breathing down our neck. It's down to us to write a script that we think is worth everyone's time; Inbetweeners fans are more discerning and vocal than people give them credit for."
Note: I think, given the film's box office takings and DVD sales, that they get enough credit for being vocal. Vocal is definitely one of the things you could easily credit an Inbetweeners fan with being, and not have to worry you were overstating the case. Discerning might not come up as frequently, but vocal is pretty much a given.
Anyway, he continued: "The last thing any of us wants is a cheap cash-in. At the moment the script is at version 0.5, so we're getting close… but we're not there yet."
Best hurry up, fellas, otherwise Inbetweeners 2, should it ever get made, will be a gross-out comedy about the adventures of some young single guys in their early 20s, having shenanigans, and I think that movie might already exist.
Read More
Filed Under: