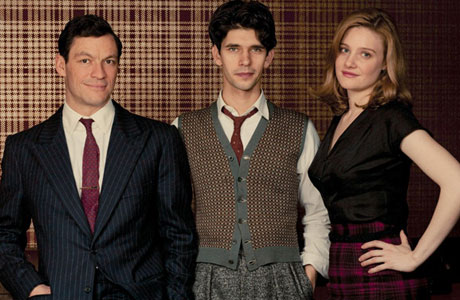 Put on your horn-rimmed glasses and break out the '50s-inspired cocktails! The second season of The Hour, with its tremendously talented ensemble cast, premieres on BBC America tonight (November 28) at 9/8c. As with most British productions, The Hour has an abundance of familiar faces. Before you watch tonight's episode and go running to IMDB, let's get ourselves acquainted with the stars of the show and see what else they've been in.
Ben Whishaw (Freddie Lyon)
In the U.K., Whishaw made name for himself in theater after starring in Trevor Nunn's 2004 production of Hamlet and appearing in films such as Brideshead Revisited and Perfume. Most recently, the actor has been wooing American audiences with noteworthy appearances in Cloud Atlas and Skyfall as Q. Whishaw is currently filming sci-fi film The Zero Theorem with Matt Damon, Christoph Waltz, and Tilda Swinton.
Dominic West (Hector Madden)
American audiences probably know him best as Detective Jimmy McNulty in HBO's The Wire. He's also made appearances in 300, Chicago, and Mona Lisa Smile. Marvel at West's incredibly convincing accent in The Wire (NSFW for language):
http://www.youtube.com/watch?v=nAZZdL1qhk8
Romola Garai (Bel Rowley)
Garai's film credits include Amazing Grace, Atonement, Glorious 39, and One Day. In 2009 she starred in the title role of BBC's Emma, opposite Jonny Lee Miller. Garai will star in sci-fi thriller Last Days on Mars with Liev Schreiber and Having You with Anna Friel in 2013.
Anna Chancellor (Lix Storm)
Anna Chancellor has quite an impressive list of acting credits. Roles in Four Weddings and a Funeral, The Hitchhiker's Guide to the Galaxy, Spooks/MI-5,  and 1995 BBC adaptation of Pride and Prejudice are just a sampling of her work. Here is Chancellor playing Mrs. Hugh Laurie with a young Benedict Cumberbatch in Fortysomething:
Burn Gorman (Thomas Kish)
Probably best known for his role as Owen Harper in Torchwood, Gorman has most recently appeared in The Dark Knight Rises and will star in The Spies of Warsaw opposite David Tennant in February 2013.
Oona Chaplin (Marnie Madden)
Granddaughter of the great Charlie Chaplin, Oona made a brief appearance on Sherlock as John's "boring teacher" girlfriend and plays Talisa on Game of Thrones in the second and upcoming third season.
http://www.youtube.com/watch?v=w2eV8p5KQq0
Peter Capaldi (Randall Brown)
New characters are introduced in the second season of The Hour, including Randall Brown, Rowley's new boss. Peter Capaldi spent four seasons playing the infamously foul-mouthed Malcolm Tucker in The Thick of It (clip below, obviously NSFW). Capaldi has also appeared in Skins, Torchwood, Doctor Who, Local Hero, Dangerous Liaisons, and Ladykillers. Capaldi has been announced to star in UK crime thriller Driven opposite Misfits' Iwan Rheon in 2013 and will appear in Maleficent with Angelina Jolie in 2014.
Read More
Filed Under: