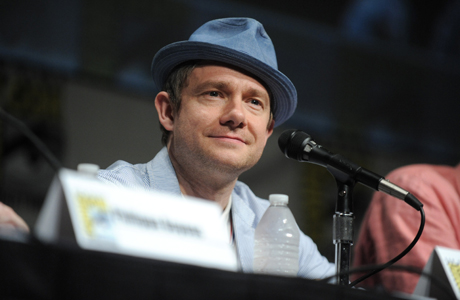 Martin Freeman is quite popular these days starring opposite Benedict Cumberbatch in the critically acclaimed Sherlock; and, of course, he is Bilbo Baggins in the forthcoming The Hobbit. Yet, he's whinging about not making the cut for Harry Potter?
Well, "whinging" might be a bit of a strong word. It seems he's just jesting with the The Sunday Times magazine when talking about being left off the HP casting roster saying, "I was one of the only people who wasn't in Harry Potter, and I'm still annoyed by that," reports STV Entertainment.
There were quite a few familiar faces in the wizard franchise including child actors Daniel Radcliffe, Emma Watson, Rupert Grint, Tom Felton and Robert Pattinson who grew to fame with the success of the films; as well as seasoned actors like Emma Thompson, Alan Rickman, Gary Oldman, Ralph Fiennes, Helena Bonham Carter, Bill Nighy, Rhys Ifans, Ciarn Hinds, Maggie Smith, Richard Harris, Fiona Shaw, Richard Griffiths, Warwick Davis, Toby Jones, Jason Isaacs, Kenneth Branagh, David Thewlis, Timothy Spawl, and David Tennant . 
… you get the gist, right? Point being, there are a lot of famous actors in the Harry Potterseries — the above is just a sampling.  But, sniff, sniff, no Mr. Martin Freeman. If there really was any disappointment on his end it's surely been wiped away with his recent success leaving Freeman shocked and humbled.
He jokes about the Harry Potter "oversight" but talks genuinely about handling the pressures of fame, telling the Times, "You have to police yourself not to become an idiot about it. Because it's not normal and it doesn't happen to people with normal jobs. If you're a doctor – and what's more important than that? – then people don't stop you in the street and say, 'Loved the way you took that pulse.'"
Are you looking forward to The Hobbit?
Read More
Filed Under: