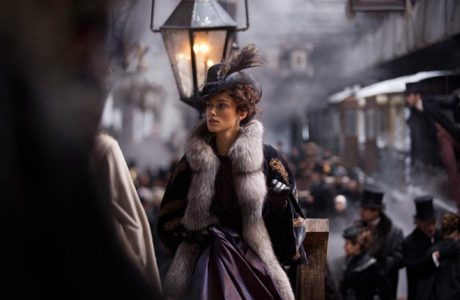 This post is brought to you by Focus Features' bold new vision of the epic story of love, Anna Karenina, starring Keira Knightley and Jude Law and directed by Joe Wright (Atonement, Pride & Prejudice). In select theatres starting November 16th.
The audience for British – and especially British-produced – period drama appears to be as voracious as ever, but how do this century's moviemakers keep their approaches to the past fresh?
That's a question that gnawed at Joe Wright, who's just directed a new screen adaptation of Anna Karenina, written by Tom Stoppard and starring Keira Knightley as Tolstoy's adulterous Russian protagonist.
Wright and his crew conducted exhaustive research in preparation for the film. As he was looking for locations in St. Petersburg, the director found himself treading the exact same ground as other filmmakers. When he looked in England, he told the Guardian, the result was even worse.
"I was looking for angles, thinking if I shoot from high, it'll look like Russia," Wright said of scouting mansions in England. "But then the owners would say to me, 'Oh yes, we've had Keira Knightley here twice before', and I began to get this feeling of boredom and despair. I kept thinking there must be another way to make period drama interesting."
The way Wright came up with was to set most of the film in an imaginary theater, which he then constructed at Shepperton Studios in Surrey.
"One huge, unfolding stage, part doll's house, part ballroom," writes the Guardian. "Characters swoosh from one set to another, smoothly transitioning mood and atmosphere."
Wright explains his choice in a piece posted to the official movie site: "[T]he action would be taking place within a beautiful decaying theater, which in itself would be omnipresent, a metaphor for Russian society of the time as it rotted from the inside. Yet we would also adhere to Tom's adaptation, with the story taking place oblivious to the artifice surrounding it."
Wright took an unconventional approach towards wardrobe as well. Costume designer Jacqueline Durran says that Wright told her that the effect of the clothing was more important than exact historical accuracy. To mimic upper class Russian obsessions with French fashion, Durran says that Anna's clothes are 1870's Russia – via 1950's couture.
"Some people will notice, others won't. But it really helped Keira understand Anna, just as 'that' green dress became a signature part of her in Atonement." Durran is referring to the now famous article of clothing from the 2007 Wright/Knightley collaboration, also a period drama, on which the designer worked. More on that ahead as Anglophenia takes a look at how some of this century's British moviemakers tell stories set in other centuries.
Read More
Filed Under: