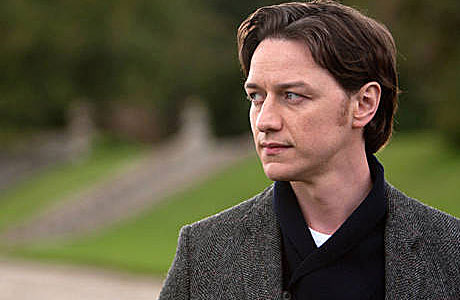 So you know we've been running a few blog posts about Benedict Cumberbatch and his current bid to take over all the jobs in the world of TV, audio and movies by 2014? One of the projects that he's reported to be involved in is Bill Condon's retelling of the recent dramatic events in the life of Julian Assange, the founder of Wikileaks who currently resides in the Ecuarorian embassy in London, fighting extradition to Sweden to face charges of sexual assault.
Benedict is due to play Julian, with James McAvoy taking the role of the German writer and activist Daniel Domscheit-Berg, the author of the book Inside Wikileaks: My Time With Julian Assange at the World's Most Dangerous Website, on which the film is partially based.
Only it seems now James has had to pull out of the project thanks to his filming commitments on the sequel to X-Men: First Class, in which he plays the young Professor Charles Xavier. So his role will now be taken by Daniel Bruhl, who you may know from Quentin Tarantino's Inglourious Basterds. And it looks like Laura Linney may be signing up to join the cast too, according to the Hollywood Reporter.
Not the X-Men cast, you understand, the Assange thing.
Here's James giving it the full Patrick Stewart junior in X-Men: First Class:
http://www.youtube.com/watch?v=n5zom_0WcFw
But if you're pining for the chance to witness Benedict and James cross theatrical swords, the pair are appearing in a BBC Radio 4 drama, an adaptation of Neil Gaiman's Neverwhere that also stars Christopher Lee, Anthony Head, Natalie Dormer, Bernard Cribbins and Sophie Okonedo.
Neverwhere will be available on the BBC iPlayer in early 2013.
Read More
Filed Under: