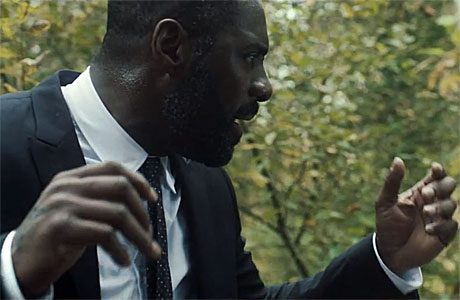 I know, this could not be more like a special Anglophenia mash-up if it starred a Dalek drinking a martini (shaken by Sherlock) at the court of Camelot.
So Idris Elba has co-directed his first pop video, with help from the scriptwriter Dan Cadan, and it's for the Mumford and Sons song "Lover of the Light."
It's a bold move, especially as his first move as director seems to have been to ban the group from proceedings, which is not something that would work with every pop star (and when I say 'every' I mean 'any'), and his second is to put himself in front of the camera. Whatever happened to the audition process?
Not that I'm complaining, you understand. And neither are the band. Speaking as one, they have released the video with a press release that says: "We are, quite obviously, huge fans of Idris Elba's acting work, as pretty much anyone can agree he's the most badass British actor since Richard Briars. So we trusted him as the director for our latest video.
"We've been fortunate to work with some great directors in the past, but we've always been uncomfortable with the process of making music videos. We've never really enjoyed being in them, unless they involve live performance.
"Talking to Idris and Dan about making a video that we're not in made it a lot more fun to think about. They went off and wrote the treatment after our ale-infused conversation in a pub in London, and what they directed, we are proud to present as: 'Lover of the Light.'"
Since its release at the end of September, Mumford and Sons' second album "Babel" has sold over a million copies worldwide.
Read More
Filed Under: