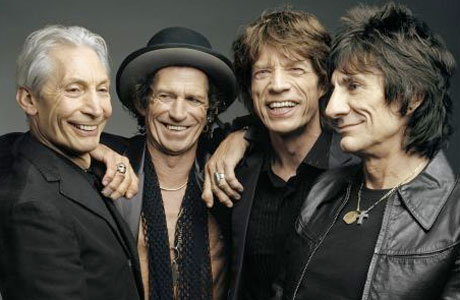 Let this post stand as some kind of flag in the ground as to what we expect from a 50th anniversary of a thing. With James Bond, we expected (and got) the best Bond film of ever, one that managed to blend up the best bits of all the old Bond movies and make something exciting and new out of the pieces. With Doctor Who's anniversary next year, we're expecting likewise (or different, that is simply how Doctor Who is).
And with the Rolling Stones, having announced a few celebratory concerts over this weekend, what we expect is a nod to all of the previous members of the group, especially after they completed their documentary Crossfire Hurricane, in which all seven Stones have been given a chance to tell their story.
(The curious exception being the constant Sixth Stone Ian Stewart, which is odd, but never mind)
Anyway, the big news is that when the band take to the stage at the O2 Arena in London on Sunday night (and again the following Thursday), they'll be accompanied by their original bassist Bill Wyman, and the incredibly nimble-fingered Mick Taylor. Brian Jones will be there in spirit.
This will be the first time the "Exile On Main Street" lineup of the band have played together since 1974, which is when Mick left. Bill walked out in 1992.
And as an extra celebration, the band released a new video today for the song "Doom And Gloom," which is slightly racy (little bit of toplessness), and stars Noomi Rapace, who you may have seen in the Swedish/Danish version of The Girl With The Dragon Tattoo and Prometheus.
Read More
Filed Under: