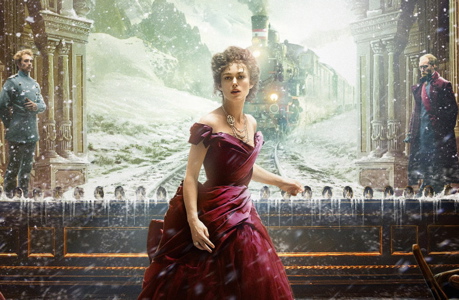 All names may be alike for the character but each actress who plays Anna Karenina brings her own distinct interpretation to the role.
The latest actress to portray Russian novelist Leo Tolstoy's willfully adulterous wife on the big screen is Keira Knightley. Her Anna is bold and impassioned, determined in her path even if it costs her everything.
Knightley's Anna Karenina opened last Friday (Nov. 16) in the U.S. to mixed to good reviews. In Time, critic Richard Corliss called it "intelligently ecstatic."
Other critics took exception to Wright's decision to stage most of the scenes as if they were taking place in a grand, decrepit theater.
"[Wright] has made an Anna Karenina that is excessively delighted with stagecraft and symbolism," wrote Lisa Schwarzbaum in Entertainment Weekly. (For a more complete roundup of reviews, click here.)
Anna Karenina marks Knightley's third collaboration with London-born director Joe Wright, with whom she previously teamed for Pride & Prejudice (2005) and Atonement (2007). Fellow Brits Jude Law and Aaron Taylor-Johnson co-star in Karenina as, respectively, Anna's stuffy bureaucrat husband and Count Vronsky, her young lover. The novel was adapted to the screen by playwright Tom Stoppard.
The role of Anna, who risks her marriage, custody of her child and her place in the upper strata of Russian society by having a passionate affair with a handsome cavalry office, has been catnip for actresses almost since movies began.
Greta Garbo even played the role twice, in a 1927 silent version (called Love) and again to even greater success in 1935 after sound came to movies. In both films, the Swedish actress's Anna was a dreamy creature, in love with love and willing to float on feelings.
Almost a decade after achieving stardom as Scarlett O'Hara in Gone With the Wind (1939), English actress Vivien Leigh took on challenge of portraying Tolstoy's tragic heroine in 1948. Her opulent Anna Karenina was produced by Alexander Korda, a prominent figure in England's post World War II film industry. While making the movie, Leigh clashed with her director, the French-born Julien Duvivier, and had little chemistry on screen with her leading man, Irish actor Kieron Moore. The film flopped at the box office.
French actress Sophie Marceau played Anna in a 1997 movie, which was otherwise an all-British production, with Bernard Rose directing and Sean Bean starring as Vronsky and James Fox as her husband. The film grossed an anemic $859,000 at the U.S. box office and critics were unkind. In the Chicago Sun-Times, Roger Ebert dismissed this version as "bloodless and shallow" and said, "[Anna] becomes so morose and tiresome that by the end, we'd just as soon she throw herself under a train, and are not much cheered when she obliges."
Over the years, the Russian classic has been a staple on TV, too. A ten-episode mini-series on BBC in 1977 starred Nicola Pagett, who is best known to older American TV viewers as Elizabeth Bellamy in the original 1970s version of Upstairs, Downstairs. English-born movie star Jacqueline Bisset tackled the challenging role in 1985 American TV miniseries, with Paul Scofield and Christopher Reeve as her co-stars. Most recently, Helen McCrory (who played Cherie Blair in The Queen) portrayed   Anna in a 2000 mini-series that aired on Channel 4 in the U.K. and on PBS in the U.S.
Clearly, Knightley is neither the first nor will she be the last leading lady attracted to Tolstoy's tragic heroine. The question of where she ranks among those who've played the role is one that moviegoers and TV viewers will have to answer for themselves.
———————————–
Who is your favorite actress to play Anna Karenina?
———————————–
Read More
Filed Under: