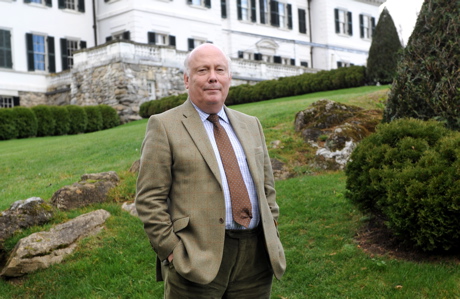 Is NBC hoping to have a Downton Abbey of its own?
The American television network has announced that it has signed a deal with scribe Julian Fellowes, the creator of the hit British historical drama. NBC wants the Englishman to write and produce The Gilded Age, a possible series portraying newly minted millionaires and their personal and professional lives in New York City in the 1880s.
"This was a vivid time with dizzying, brilliant ascents and calamitous falls, of record-breaking ostentation and savage rivalry; a time when money was king," Fellowes said in an NBC press release.
The network has not said when the show might air, but it is assumed that NBC is hopeful the series might be a prospect for next fall's season.
Last winter, ABC had commissioned Grey's Anatomy creator Shonda Rhimes for a pilot called Gilded Lilys, a show about a wealthy family opening the first luxury hotel in New York in 1895. The pilot failed to make the cut for the 2012-13 season.
Fellowes himself wrote Titanic, a period mini-series that aired on ABC last spring (as well as on England's ITV network), timed to coincide with the 100th anniversary of the ocean liner's sinking. Stateside, the mini-series earned only middling ratings.
Our main question for Fellowes about this newest show: will he create a character to rival Maggie Smith's Dowager Countess on Downton and who might play her? Blythe Danner, who was in Gilded Lilys? Shirley MacLaine, who will be featured in the third season of Downton? Jane Fonda? Jane Alexander? Stockard Channing?
In addition to working this new possible show, Fellowes continues to toil on Downton Abbey, which was renewed earlier this month by ITV, on which it airs in England, for a fourth season. The third season of Downton will begin showing in the U.S. on PBS in January.
—————————————-
Do you hope The Gilded Age makes it onto NBC for the 2013-14 season?
—————————————-
Read More
Filed Under: