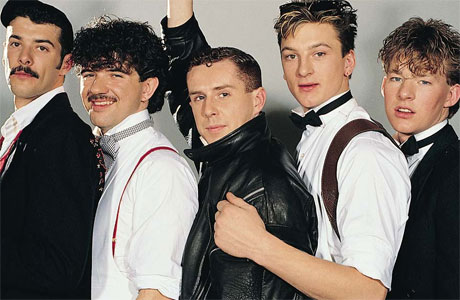 There comes a time when you have to ask yourself: what are you for, musically speaking? Are you for artistic expression, people being allowed to create the music they want to make, singers singing the songs they want to sing, about the times in which they live? Are you for a popular music that only follows its own rules? I am. I'm also for pop music that doesn't seem to be burdened by the need to fit into a pantheon of song that has already been and gone.
That's not the same as dismissing the music of the past, most of my favorite songs are from the past. In the main, my personal taste tends towards '60s pop music, whether that's soul, beat groups or folk, but I don't pine for that era, and I don't wish that the music of that time was still the music of now. That would result in an incredible dilution of everything that had gone before, and besides, it would wipe out all of the astonishing things that happened in the last 40-50 years. No "Stairway!" Denied! etc
What I'm against is the tidying up of pop music's rough edges, to make it palatable for an older, less exciteable audience. And when I say 'rough edges,' I mean taking synthpop hits from the '80s, replacing the electronic instruments with acoustic instruments and making everything kind of homey and folksy and sad. The inference being that these songs have been improved now we have a hand-made, artisan version of the machine-tooled and corporate pop of the past.
Gary Jules was probably the biggest early example of this trend, with his version of the Tears For Fears song "Mad World" being a moving highlight of the soundtrack to the movie Donnie Darko.
And on a purely musical level, these covers are perfectly valid. Not worth getting in a tizz about. You either like 'em or your don't, and to stand against them is to stand against the legions of musicians making YouTube covers in their bedrooms or gigging around their local coffee shops. The problems come when the main beneficiaries of this move into the Quality Ingredients market is advertisers. Advertisers LOVE the gentrified pop music. They love that a gentrified pop song offers a quick hit of recognition, coated in the sugary rush of something sonically fresh, to guarantee attention for whatever is is they happen to be selling.
Only today, an up and coming British singer called Gabrielle Aplin has released her cover of Frankie Goes To Hollywood's preposterously enormous festive ballad "The Power Of Love," as part of an ad campaign for the department store John Lewis. They do one of these every year, with past participants including Ellie Goulding ("Your Song") and Paloma Faith (INXS's "Never Tear Us Apart"). They don't care that Gabrielle doesn't appear to have a complete lyric sheet and is just busking the words, they just want that maudlin, intimate, LOOK AT MY COMMERCIAL AND CRY! artisan feel, and they want it NOW:
And then before you know it, Kylie Minogue is releasing an album of her own pop songs done with acoustic instrumentation and no drums, to try and secure her place as a purveyor of Quality Pop Music, an organic deli rather than McDonalds. And why? Because for people of a certain age, it's not good enough to be popular, you have to be the choice of connoisseurs. Suddenly pop songs don't have to be fun any more, they have to be DEEP, or most suffocating of all: IMPORTANT.
And deep is fine, but fun is fine too.
So, in five years time, if we're all sobbing in front of a hauntingly sad commercial for Coke, smothered in a string quartet version of "Gangnam Style," remember I TOLD you this would happen, and I was AGAINST IT.
Read More
Filed Under: