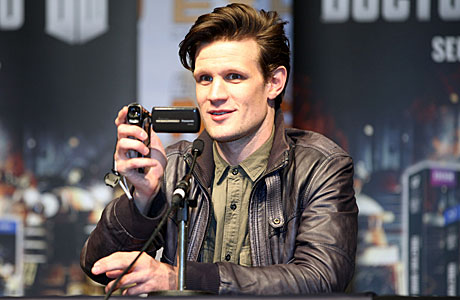 What with all the fun and games around Matt Smith's 30th birthday, and then Halloween, the London's MCM Expo Comic-Con appearance of Matt and Caroline Skinner might not have caught your undivided attention. Luckily official Whovian representatives were on hand to film every moment. And when they couldn't, Matt himself took over.
Here are three parts of his Q&A session, alongside Caro Skinner. Part 1 has gone walkabout, sadly, but here's part 2:
http://youtu.be/RHIgi6SHXCw
Here's part 3:
http://youtu.be/3W00_6LK1A4
And here's part 4. Keep an ear out for The Biggest Question of the Age, namely "will there ever be a Doctor Who / Sherlock crossover episode?"
http://youtu.be/n9rUJMkWl7A
• Matt also teased Neil Gaiman's upcoming episode of Doctor Who, assuring reporters it will be a new fan favorite.  When asked if the episode would have any connections to Neil's previous one, Matt answered, "No, it's very different. But again I think it will be a fan's favorite because, well, without giving anything away, it just will be, because there's something in it. Neil's brilliant ideas will always add a level to Doctor Who, which will be interesting." (via Digital Spy)
• He also revealed a few details about the forthcoming Christmas Special to Collider (spoiler alert). "[I]t does the sort of wonderful Doctor Who-ey Christmas things — you know, snow, aliens, good will, good cheer, someone trying to take over the world. Hopefully it makes for good Christmas Day telly."
Here's what else has been going on in time and space recently:
• Buzzfeed rounded up the 50 Best Halloween Costumes Of 2012. We're particularly fond of No. 48:
• Also on Halloween, not only did we publish the very best of our Whovian pumpkin lanterns, we ran down our list of Doctor Who's ten most horrifying moments to date. It probably is not the same as your list — there has been a lot of discussion around one particular omission — so you'd best get on over there and explain what we did wrong.
• And while we're on the topic, who's your favorite Doctor Who villain? Shortlist has run a Top 10, including the Sontarans, Daleks and Cybermen, alongside a couple of surprise choices, which is always a chance for arguments to develop. Clue: their No. 1 choice is very "Oh I see what you did there…"
• The Radio Times has an interview with Steve Berry, author of a book of Whovian audience memories Behind The Sofa (available in the BBC AMERICA Shop), which features contributions from British comedian Charlie Brooker, Jonathan Ross, and Neil Gaiman, who says this brilliant thing about how frightening the show can be: "People ask, 'Why do you want to scare kids?' but kids like being scared. We have to learn fear to survive. Doctor Who is like an inoculation of fear."
So there you have it, it's not just a great TV show, it's a vaccine.
• Doctor Duckies, anyone? (from Wicked Whovian)
• Karen Gillan has been talking to The List about her new project, the indie comedy movie Not Another Happy Ending, and reveling in the chance to do some on-screen improvisation (which is presumably hard to achieve when you're talking to a Dalek): "I was allowed to jump on the sofa if I wanted to, so I just did, because it just felt right in the moment. There's lots of improvisation in the film, we spoke about it with the director, and came to the conclusion that it was better when it was just free, and things could just pop out."
• Love this:
And as is now traditional, let's go out singing. Here's Doctor Who The Musical! We'd love to see a full-length production of this:
TTFN!
Read More
Filed Under: